7/5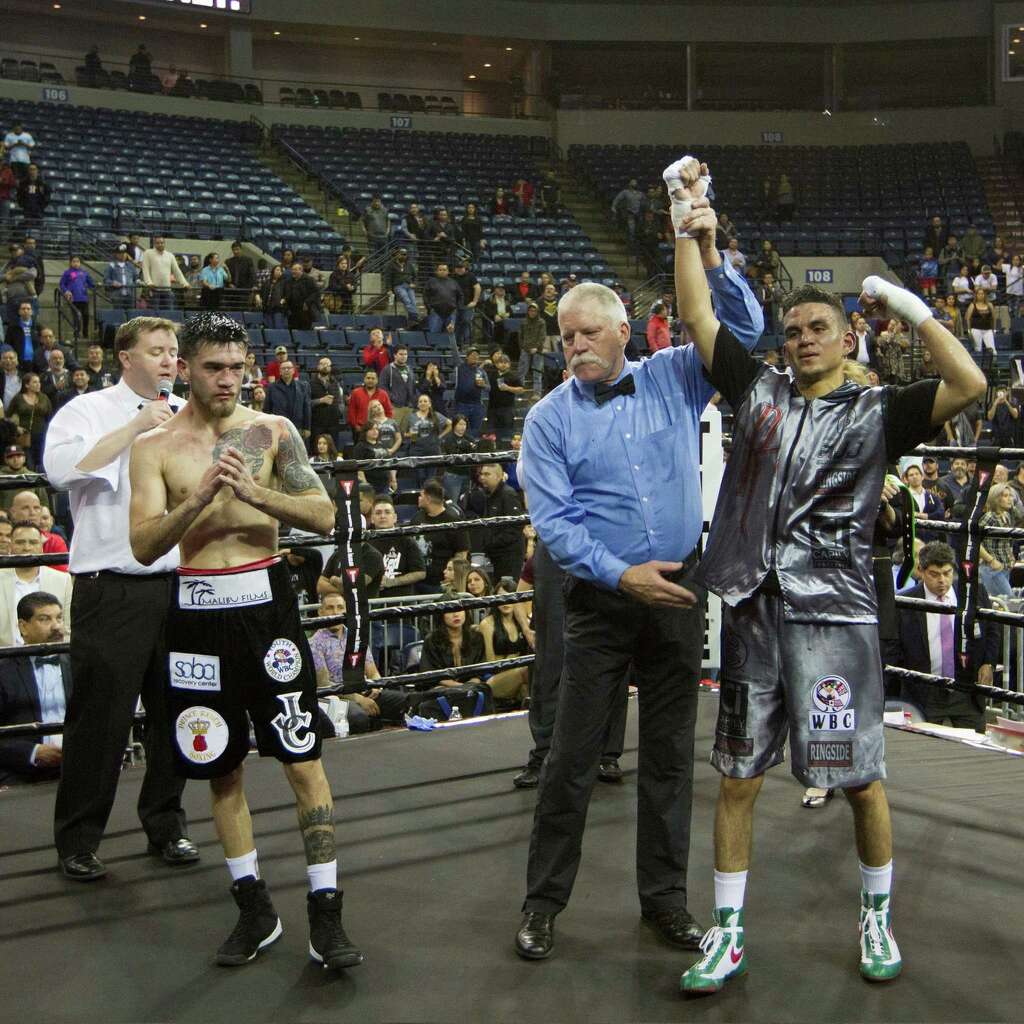 Two exciting cards have been anounced to take place in the Lone Star State. First Roy Jones Jr Promotions returns to Texas with a nationally televised card on July 27th in Laredo at the Laredo Energy Arena. The card will be headlined by two excellent fights. Super Featherweight Jorge Castaneda will take on Carlos Villareal. Randy Moreno Ochoa will also be in action against Victor Rosas. The Next day in Austin Underwood returns to the Capital city and will play host to an exciting card that will feature Middleweight prospect Kurtiss Colvin will take on veteran Raul Casarez an Edinbirg county native in the main event at the Austin Sports Center.
6/18
Errol Spence Jr puts on a STAR making performance in front of sold out crowd at the Star in Frisco. The DeSoto native defended his IBF 147 pound strap in devastating fashion against mandatory challanger Carlos Ocampo of Mexico. Spence ended Ocampo's night before it got started. A single right-hook to the body sent Ocampo crumbling to the floor for the 10-count and some. The crowd was packed with the who's who of Dallas. Former super bowl champ Michael Irvin was in attnedance as was Dak Prescott and former Texas Tech star reciever Michael Crabtree along with a host of others. Cowboy owner Jerry Jones met and congratulated Spence in the ring after the fight. Spence spoke of making fighting in his hometown a yearly thing.
Two rising Dallas area prospects were featured on the undercard,  Alejandro "Pork Chop" Guerrero remained unbeatean in destroying formely unbeatean Fort Worth prospect David Fabela in just three rounds. Pork Chop who is trained by Robert Garcia ran his career record to 9-0 (7) the untelevised card started off with another local prospect Fernando Garcia  picking up a first round knockout over Angel Carvajal. Garcia who previously fought in February at the "Night to Fight" event in the Frontiers of Flight Museum is now 30-years old but picking up steam and making a name for himself in the DFW and Texas boxing scence a much bigger fight appears to be on the horizon.
6/10
It was a terrific week in Texas Boxing capped off by a successful title defense by Houston native Jermell Charlo. The Charlo Twins are now 28 years old and at the top of the boxing mountain. Jermell, who is one minute younger than Jermall, defended his 154-pound WBC title against veteran Austin Trout who owns a victory over future hall of famer and Puerto Rican legend Miguel Cotto. Charlo took, what was a competitive majority decision with the help of two knockdowns. The unification talks between Charlo and WBA/IBF champ Jarrett Hurd are already starting to heat up and should take place before the end of the year.
In other Texas news, Dallas has yet another world champion, "Mighty" Mo Hooker shocked the world on Saturday afternoon taking a split decision over heavily favored Turbo Terry Flannagan. Hooker took an ultra-competitive decision in Flanagan's hometown of Manchester, England. Hooker was given almost no chance by any of the experts foreign or domestic of beating the unbeaten former 135-pound champ. The bout was nip and tuck throughout with plenty of close rounds that could have gone either way. At the end of the 12 round affair, two of the three judges preferred Hooker's jab and work rate awarding him the split decision and the vacant WBO 140-pound strap. A possible title defense with valley native Omar Figueroa is already being discussed as is a bout with Regis Prograis,  a New Orleans native who now fights out of Houston.
In other Lone Star State boxing news mega junior middleweight prospect and Carrolton native Alex Rincon ran his record to a perfect 4-0(4) with a one round destruction over veteran Engelberto Valenzuela on the undercard of a Golden Boy Promotions card that was aired on ESPN.
Finally, this Saturday is the big homecoming for former Olympian and IBF Welterweight champ Errol Spence. A Desoto Texas native will make the mandatory defense of his 147-pound title against tough and unbeaten Mexican challenger Carlos Ocampo at the Star in Frisco. The Card will also feature a long list of Dallas prospects and contenders including unbeaten up and comers Alejandro "Pork Chop" Guerrero, Adrian Taylor, Fernando Garcia and veteran lightweight/Super featherweight contender Roberto Marroquin will also be featured.
5/29
Dallas based middleweight Marchristopher Adkins who is best known for upsetting Shane Mosley Jr. was the co-feature on a card in Kansas City. In a strange turn of events Adkins who was outboxing his opponent, Kansas City-based Calvin Metcalf, and seemingly winning rounds behind his stiff jab and movement, could not keep his mouthpiece in. Adkins's mouthpiece dropped a total of five times, the first two times the Texan was given a warning. The third and fourth times he has deducted a point and the final time he dropped his mouthpiece he was disqualified. The strangest thing was Adkins was winning the fight clearly and the better boxer he just couldn't keep his mouthpiece in his mouth. His corner repeatedly told him to "bite down" and told me that "he had  quite a weight drain and that played a part"  Adkins said he "had no excuses Metcalf deserves the win, it just hurts to lose in this way" He went on to say "that I was preparing to fight at 168 or 170 and i had no opponent  up until less than two weeks ago and took the fight at 160." He wanted everyone to know that "this wasn't anything intentional, I wasn't spitting my mouthpiece out or anything like that and  I'm not looking to make any excuses"  The card was headlined by Oklahoman native and son of former legendary heavyweight Kenzie "Son of a Gunn" Morrison who took apart an opponent named Galen Brown in just 40 seconds in typical Morrison fashion.
5/1
It was a huge week of Boxing in the Lone Star State. A big fight card, a big announcement, and a public training sessions from a sensational prospect all went down this past weekend in Texas.It was a huge week of Boxing in the Lone Star State. A big fight card, a big announcement, and a public training sessions from a sensational prospect all went down this past weekend in Texas.

Al Haymon's PBC (Premier Boxing Championships) came to El Paso for a terrific night of boxing. In the main event, The "Riverside Rocky" Josesito Lopez pulled a big upset. The rugged veteran took a lopsided unanimous decision over mega-prospect  Miguel Cruz. Lopez, a 33-year veteran who has been in the ring with everyone, was supposed to be a stepping stone for Cruz. However, Lopez had different plans proving there was still some gas left in his tank. Relentless pressure and lots of bodywork carried him past the previously unbeaten upstart at Don Haskins Convention Center.
On the undercard, hometown hero Abraham Han put on a good tough entertaining fight in dropping a very competitive decision to former 168-pound world champ Anthony Dirrell in a much tougher than expected fight.  On the untelevised portion of the undercard. Erickson Lubin scored a knockout in his comeback against Silverio Ortiz. Two Texas-based up and coming prospects were also featured on the card. Alejandro "Pork chop" Guerrero an Irving native stayed unbeaten in a lightweight match in pitching a shutout against Michael Gaxiola. In disappointing news all action prospect Ryan Karl of Milano Texas. Karl who has become a fan favorite for his all-action style as well as for entering the ring in his traditional cowboy hat suffered a fifth-round stoppage to fellow prospect Kevin Watts. Karl's record fell to (15-2).
Carrolton native and Golden Box super-prospect Alex Rincon,  had his open media workout on Saturday. It was a well-attended event at the P5 Performance in Frisco. Rincon (3-0) gave the local media a peek into what his conditioning and preparation look like. The 22-year old prospect preparing for a nationally televised Golden Boy Promotions event on May 17th in Indio California. It's the first time Rincon has been in the ring since October of last year when he stopped Steven Andrade in the second round at Turning Stone Resort & Casino, In Verona, New York. Rincon closed the afternoon with doing his final round on the mitts with his dad and ended the event by leading us in a group prayer.
IBF Welterweight Champion Errol "The Truth" Spence has confirmed his June 16th date at the Star in Frisco. It will be Spence's second fight of the year and his first ever title defense in his home state. Spence, a DeSoto native is widely considered the best 147-pounder in the world and the most avoided fighter in the world. Spence confirmed that he will take on the mandatory challenger for his IBF belt, Carlos Ocampo. Ocampo is a mostly unknown Mexican welterweight who holds a perfect record of (22-0). In addition to having held the IBF belt since 2017, Spence was also an Olympian in 2012 London games.
4/23
This Saturday the Don Haskins Convention Center in El Paso will host an absolutely stacked card that will be nationally aired on FOX.  The card will feature an incredible 10 total fights which will be headlined by "The Riverside Rocky" Josesito Lopez a veteran of over 40 professional fights, who has been in the ring with everyone, including Canelo Alvarez, Victor Ortiz, Jessie Vargas, Marcos Maidana and Andre Berto. Will take on undefeated prospect Miguez Cruz in a welterweight bout. The co-main event will showcase former 168-pound world champion Anthony Dirrell against El Paso native and fan favorite "Sun City Warrior" Abraham Han. The card will also feature a litany of other big names including Ryan "Cowboy" Karl who is a Milano native and trains out of Ronnie Shields Plex Gym. As well as Jorge Lara a comebacking 130-pounder who calls Houston Texas home. As well as mega-prospect, 22-year-old Erickson Lubin who will fight for the first time since his major setback loss to Houston native Jermell Charlo.
4/9
Laredo is turning into a hotbed for boxing in the state of Texas. It has hosted many incredibly entertaining fight cards. This past Saturday was no different. As legendary and always entertaining former champ Ricardo Mayorga was upset by Laredo  Rodolfo "Cobrita" Gomez Jr. in the 10-round, super middleweight main event at Laredo Energy Arena.
"We basically have locals (on this card) but then we have a superstar in Ricardo Mayorga," Lone Star Boxing Promotions CEO Ivaylo Gotzev said. "He's facing a local kid (Gomez) which makes it really exciting. … Top to bottom, there's something for everyone."
Despite being 45, Mayorga was doing a good job early against Gomez, boxing well an landing clean combinations but as is typical with  Mayorga he stuck his head out, dropped his hands and taunted his opponent. This tactic came back to haunt him in the final round. Gomez landed a series of hard power shots to drop Mayorga who quickly rose to his feet, but the referee inexplicably said the former two-division champion was in no condition to continue and he decided to stop the fight raising more questions and giving another black eye to Texas boxing. As a hometown fighter was unexplainably given a win many will debate he didn't deserve.
Two other Laredo based prospects where featured in eight rounders. 122-pound teenage prospect "El Gallo Giro" Jorge Ramos stayed undefeated by dismantling Jonathan Alexis Beltran. In the co-main event hometown favorite, Joshua Juarez ran his record to a perfect (7-0, 4 KOs) by dominating James "Murda" Rodriguez by unanimous decision. Juarez also took home the Texas State light heavyweight title.
4/4
The San Antonio boxing scene will remain red hot. San Antonio has established itself as a great fight city and PRB boxing has taken notice and will return on April 21st with a major card titled "Whose "0" Must Go", which will be held at the Mi Mercado Event Center. The main event will highlight a couple of undefeated  San Antonio based welterweights, James Cantu (10-0, 4 KOs) vs. Jairo Castaneda (9-0, 3 KOs). Daniel Baiz who headlined a card back in January at the Scottish Rite will also be featured on the card. Baiz is a monster of a Jr. Middleweight and an all-action come forward fighter who is building quite an impressive fan base in his hometown. Undefeated 17-year-old prospect Gregory Morales and  140-pound prospect Frank Brown will also be featured on the stacked card.
3/12
Tha Freeman Coliseum, in San Antonio, played host to four of the best 140 pounders in the world this past Saturday. In the main event, 135-pound champ and pound for pound elite Mikey Garcia took care of business in entertaining fashion. In a very entertaining but ultimately one-sided affair, Mikey Garcia captured the  IBF strap from Sergey Lipinets. Lipinets put up a very game effort and even won a couple of rounds. However, Garcia's sharp and accurate power punches ultimately proved to be far too much for Lipinets. In the co-main event, Kiryl Relikh was able to put together a star-making performance, in dominating former two-division and undefeated world champion Rances Barthelemy. Barthelemy, who is known as Kid Blast,  took a very controversial decision over Relikh back in May of 2017, this time wasn't so lucky as Kid Blast got blast got blasted out via lopsided decision.
On the untelevised undercard, Richard Commey became the mandatory for the 135 pound IBF strap in easily blasting out Alejandro Luna in the sixth round. Commey is now the mandatory for Robert Easter to whom he dropped a very controversial decision to back in 2016. In a Super Bantamweight bout, Weslaco native Brandon Lee Figueroa continued to impress against increasingly tougher competition. The 21-year-old Texan not only knocked out Giovanni Delgado in the seventh but, also set a world record for a Super Bantamweight fight by throwing 176 punches in the third round. The most in any round in a fight at the weight class. San Antonio mega-prospect Mario Barrios put on a show in front of the hometown fans, making easy work of Dominican veteran Eudy Bernardo. Barrios said prior to the fight this was "the toughest opponent of his career." Despite the step up in competition Barrios stayed unbeaten and floored  Bernardo with a straight right hand to his chin just 45 seconds into the first round.Bernardo wobbled to his feet before the fight was quickly waived off just seconds into the opening round.  Irving, native Alejandro Guerrero destroyed  Philip Adyaka in the first round to run his record to 7-0. The Texas lightweight has tremendous power and is a legitimate prospect at barely 20-years-old.
2/23
Thursday 22, February 2018
Frontiers of Flight Museum, Love Field Airport, Dallas, Texas, USA
The Ring of Hope Boxing Club was started in 2010 to provide a place for Dallas youth to build physical and spiritual discipline, and to get mentoring support that gives them a HOPE for a better future. The URhope Foundation and the Dallas Leadership Foundation (DLF), partner together to reach the youth through the Ring of Hope Boxing Club. Each week, youth boxing training and exercise but more importantly life skills coaching in a safe and encouraging environment skills. Through building relationships and Bible study, youth learn of their incredible value in the eyes of God. Some ROHBC teens compete in local, state, and national boxing championship matches.
Their annual  "A Night to Fight" raises funds to benefit Ring of Hope Boxing Clubs.
It was a great night for faith and fighting in Dallas. Combining a commitment to serving Christ and a passion for the sweet science, The Ring of Hope Boxing Clubs annual "A Night to Fight" was an awesome display of the young talent that Texas is producing. A great night of boxing was capped off by a back and forth main-event between two Big D natives. Ernesto Delgadillo and Oscar Mojica for the WBC United States (USNBC) Super Flyweight Title. Delgadillo the reigning champ and Mojica the challenger, were more than a little familiar with each other, having met numerous times in the amateur ranks and the familiarity showed in a back and forth 10 round brawl. Delgadillo controlled the early action behind a stinging jab, excellent footwork and blazing hand speed taking the first two rounds. The challenger stayed on the aggressive hunting down his opponent and about halfway through round three, Mojica was able to get to his man and outland him on the inside with beautifully placed uppercuts and short right hands the lead to a heated exchange at the end of the third, that may have won Mojica the round and changed the momentum of the fight. From the point on the taller Mojica was able to impose his will and win the exchanges and succeeded in taking Delgadillo out of his game plan and into a slugfest and evening up the bout halfway through. Delgadillo came out for round six and got back to sticking his lightning-quick jab and lateral movement. Out landing and outworking Mojica, driving him into the ropes near the end of the round. Over the next three rounds, Mojica continued applying pressure and was able to land on the inside, but was being broken down and tiring because of the champs jabs, lead lefts and movement. Entering the last round, Mojica knowing he needed a knockout to win came out like gangbusters, seemingly catching his second or perhaps third wind. Mojica landed numerous big right hands staggering and stunning Delgadillo, who did not back down and was drawn into slugging it out over the last 60 seconds. At the end of the 10 round USNBC title fight, both fighters had again earned the respect of each other and Delgadillo was able to retain his title in a close and ultra-competitive but clear decision victory.
The undercard included an exhibition put on by two division former world Champ Jesus Chaves who sparred three rounds against three different opponents. Chavez, who is known
as El Matador, showed that he still had it. Showing the slick foot movement and shotgun right hand that made him a two-division former champ.
The undercard also featured unbeaten Texas prospect Fernando Garcia, taking on the toughest test of his young career Mexican tough guy Christian Alejandro Silva from the fighting town of Jalisco, Mexico. Silva was able to land some solid right hands in the first round and catch the attention of Garcia. Garcia went into retreat and tried to slow the pace and control the tempo of the fight. Over the next two rounds, Garcia sat back out landed counter shots and avoided the aggressive Silva who was still bringing the heat and making Garcia highly uncomfortable. The second half of the scheduled six-rounder was controlled by the unbeaten Texan, as his superior skill set proved to be too much for the all-out aggression of Silva. Garcia was able to control the fight with his jab and movement and take the unanimous decision.
The card also featured two highly exciting four rounders. Including a women's bout between the highly regarded Jamie Mitchell who is trained by former World Light Heavyweight champion Eddie Mustafa Muhammad against Dallas, Texas prospect Shurretta Metcalf. The entire four rounds were fast-paced warfare. Mitchell tried to avoid Metcalf who was the aggressor, by using a stiff jab and superior foot speed. However, Metcalf who appeared physically stronger was able to get past the jab of Mitchell and seemed to outwork her on the inside. Metcalf took the third round big with two-flush right hands the staggered Mitchell. In desperate need of the fourth round, Mitchell was able to slow down the tempo a bit and controlled the fight with her jab. The aggressor, Metcalf showed signed of tiring as the bell rang to end the fourth and final round. Going to the cards the crowd who thought their hometown underdog had done enough to take Mitchell's "0" were none too happy when the fight was announced a draw.
In the first pro bout, the Dallas-Houston rivalry flared up again in an ultra-competitive bout between Dallas native Charles Clark and Isau Duenez who resides in Houston. The last three rounds were choc filled with heated exchanges that were predominantly won by Clark's superior hand speed and beautifully placed combinations. However, Duenez who controlled the first round, was the worse for wear, was certainly able to land plenty of big shots on the inside. However, the game effort by Duenez was not enough. Clark swept the last three rounds of the four round affair and took the fight on the judges' scorecards 39-37 unanimously.
The capacity crowd featured 2017 "Trainer of The Year" Derrick James, Why We Fight star Zach Wohlman and superstar featherweight prospect Ray Ximenez among others. The action pact fight night was a win for the fans but a bigger win for the Ring Of Hope Boxing Clubs and The URhope Foundation and Dallas Leadership Foundation (DLF). "A Night to Fight" was truly a night to remember.
They will fight against you but will not overcome you, for I am with you and will rescue you," declares the LORD. – Jeremiah 1:19
2/10/2018
In another card promoted by Roy Jones Jr Promotions, local icon Ray Ximenez Jr put on quite a show at the Bomb Factory in Dallas, Texas. It's not quite clear what statement was louder his dominating performance in the ring which cemented his position as a legitimate contender in the loaded 126-pound division, or his unique fashion statement. The Dallas native sported a hot pink dyed flop of hair and pink fur gladiator type trunks. One thing is clear, Ximenez absolutely stole the show. He took a lopsided UD over a very game Eugene Lagos. Lagos, a stablemate of highly ranked super flyweight Milton Palicte, showed an experienced demeanor, a stiff jab, a cast iron chin, and a heart as big as Texas. However, it was apparent from the onset that the Filipino had no answer for the blazing hand speed of the Pleasant Grove native. Ximenez dominated the fight with a lightning quick jab and two punch combinations. Defensively he was a wizard putting on an awesome display of head movement, slipping everything Lagos threw his way. At the end of the scheduled eight-rounder, the Texan had earned a clear hard fought UD. Post-fight Ray Ximenez Sr, Ray Jr's dad and head trainer told 3Dboxing, that he was really satisfied with his son's performance, but he needs to be a bit more consistent and added that all they "want is a rematch with Christopher Diaz", who took a highly controversial decision over Ximenez Jr. back in April of 2016 in Diaz's native Puerto Rico. Ximenez Sr says they think that they won and Diaz was the beneficiary of a hometown decision and stated that Diaz refuses to fight "outside of Puerto Rico or Miami" but this is the only fight his son wants.
The undercard featured a lineup of undefeated Texas Prospects. Edward Vasquez, an undefeated featherweight from Fort Worth, who is one of Roy Jones Jr's newest and most prized prospects, put on a show of offensive skill, brute strength, and solid footwork. Vasquez dominated an action-packed fight from the first round on. The Fort Worth fighter sent Brandon Avrie wheeling at the end of the first round with a solid right hand and jumped on the dazed fighter landing more power shots before the bell rang. Vasquez dominated the fight and ran his record to a perfect 5-0 in dominant fashion with the exception of the fourth round. Where Arvie landed a picture-perfect counter left hook that landed squarely on the chin of Vasquez and sent him to the seat of his pants at the end of round 4. Vasquez seemed affected by the shot as he walked to his corner, however, the capacity crowd lifted the hometown fighter with chants of "Kidd-Kidd-Kidd" which is the nickname of Vasquez who proved he was Texas tough and gritted through the next two rounds to take a clear UD over the previously unbeaten Arvie.
Texas bantamweight Dominique Griffin stayed undefeated in what was the most action-packed fan friendly fight of the night. The San Angelo born, Dallas raised, Houston based prospect had all corners covered in what was perhaps the most entertaining 4-0 shutout you are ever gonna see over David Alfaro of Austin. Griffin outworked and landed at will with the right hand and did the majority of the damage in this four-round bout. However, Alfaro stayed aggressive, showcasing grit and moxie in applying constant pressure on the speedier and far more skilled Griffin.
In the opening matchup of the night, an untelevised bout, undefeated, Dallas based Jarvis Sheppard ran his record to a perfect 5-0 (5) with a first-round destruction of Christopher Turton who is also of Dallas.
2/5/18
The Bank of America Center, in Corpus Christi, was home to a  night of young stars, that was televised by ESPN. In the main event 26-year-old Mexican Super Middleweight  Gilberto "Zurdo" Ramirez ran his perfect record to 37-0 (26) KO's, with a dominating performance over  Habib Ahmed of Ghana. Zurdo is considered perhaps the best 168 pounders in the world and one of the premier young fighters in the world.
The card also featured Jesse Hart, who is bouncing back from a tough fight with Ramirez in his last outing, had a much easier night in knocking out Thomas Awimbono in the first round. Filipino 115 pound IBF champ Jerwin Ancajas was also on the card. Ancajas, who is often compared to Manny Pacquiao, put on yet another amazing offensive performance in stopping a game  Israel Gonzalez in 10 rounds.
Other top young fighters were also featured including Teofimo Lopez who is considered to be the top young prospect in the world by some, beat a tough veteran fighter by the name of  Juan Pablo Sanchez. Jose Benavidez returned to the ring and put on a masterful performance, after creating a media buzz by getting into a prolonged trash talk battle with pound-4-pound king Terence 'Bud" Crawford.  17-year-old super prospect Gabriel Flores Jr ran his record to a perfect 6-0 (5) by destroying Alex Solorio in the first round.
1/31/2017
The Texas Boxing Scene continues to remain red hot. Two new cards announced for the Dallas area for February and a world Championship card rescheduled in San Antonio.
Two exciting fight cards are coming to Dallas. First Roy Jones Jr. promotions which gave us an exciting card in Austin back in December, returns to the Lone Star State on February 9th, in the iconic  Bomb Factory.  The card will feature Fort Worth prospect  Ray Ximenez, a tremendously skilled, quick and elusive featherweight who will take on Filipino prospect John Vincent Moralde who is 19-1 and his only defeat was a competitive loss to highly regarded prospect Toka Kahn Clary on national TV. This is a big step up for the young  Ximenez who turned pro back in the fall of 2010 as a teenager on a fight that was televised nationally on ESPN2. He certainly lived up to his lofty expectations and opened many eyes with his blazing speed. The Fort Worth project will look to elevate his status from high-end prospect to legitimate world championship contender and look to put himself in position for a world title.  The card will also feature a number of highly touted Dallas area prospects including Juan Antonio Lopez who took on former world champ Rico Ramos in his last outing. As well as undefeated super featherweight Edward Vasquez and power punching prospect Fernando Garcia. The card will air nationally on Bein Sports.
.
On February 22nd boxing returns to big D at Frontiers of Flight Museum, Love Field Airport. A card put together by budding Texas promoter Arnie Verbeek and his  Undercard Promotions LLC. The card will feature a lineup of his young rising stars Ernesto Delgadillo who may be the best young fighter in the DFW area at just 23 years old looks to be on a world championship path. Another young prospect Manuel Rey Rojas is a hotshot lightweight that will take on a very game and very tough veteran that fight fans will recognize in Fatiou Fassinou. Edward Vasquez and Fernando Garcia will also turn around and fight again on this card.
Finally, the world championship fight between Pound for pounder Mikey Garcia and IBF 140 pound champ Sergey Lipinitz will has been rescheduled for March 10th at the Freeman Coliseum in San Antonio.
1/21/17
Desoto Native Errol Spence defended his IBF Welterweight title in dominant fashion against former two-division champion Lamont Peterson. Spence is highly regarded as one of the best Welterweights and pound for pound fighters on earth. He put on perhaps the best performance of his career on Saturday night in Brooklyn's Barclay's Centre. "The Truth" lived up to his nickname in outboxing the veteran Peterson early on putting rounds in the bank and breaking his man down early then dropping him in the 5th with a left hook. He continued the onslaught in rounds six and especially seven. After the seventh Peterson's esteemed trainer Barry Hunter told his man that he didn't like what he was seeing and advised the ref to wave off the fight instead of answering the bell to start the eighth round. Officially giving the North Texan the first successful defense of his IBF belt and an eighth-round TKO. Spence went on to say in the post-fight press conference he plans on a homecoming and defending his title in Dallas his next time out. Spence Won the strap in Sheffield England in 2017 and this Saturday in Brooklyn was his first defense. Spence has not fought in North Texas since 2015 when he blew out Alejandro Barrera in "The Bomb Factory". He has fought three of his last four fights in Brooklyn.
Pound for Pounder Mikey Garcia's world title fight against 140 pound IBF kingpin Sergey Lipinets in San Antonio has been postponed and is in the process of being rescheduled. Garcia who is considered one of the best fighters in the world, and is currently ranked #3 in the world by 3DBoxing, was looking to make history by joining two legends, Manny Pacquiao and Juan Manuel Marquez as the only fighters in history to win world titles from 126 pounds straight through to 140 pounds. The champ Lipinets had to pull out and reschedule due to a gruesome hand injury. 3DBoxing will continue to update you on this and announce a new date when the fight is rescheduled.
While Errol Spence was representing Texas in New York, Texas put on an outstanding show displaying the local talent that the state is pouring out. Brought to you courtesy of TMB & PRB Promotions, The beautiful Scottish Rite in the heart of San Antonio was home to an exciting show on Saturday. In the main event, Daniel Baiz lived up to his nickname "Da Beast" in beating down a really tough opponent in Rey Trujillo. Da Beast who is a San Antonio native has run off his fourth consecutive win all of which have been in San Antonio. Baiz from the first round on stalked and attacked Trujillo with massive hooks and body shots. There were bad intentions on every shot Baiz threw from the opening bell on. Despite not being able to muster up much offense Trujillo's chin was certainly up to the challenge and took the best shots Baiz offered up. In the last two rounds, Baiz continued to go beast mode and picked up the ferocious attack and rolled to an easy UD.
In the co-main events, two ladies put on a special fight. Brittany "Mi Vida Loca' Ordonez and "Queen Bee" Briana Gonzalez, traded heavy leather for the entirety of their 6 round slugfest. Ordonez seemed to have an edge on the outside and was able to win the battle of the jabs but was too often for her own good drug into heated exchanges and the "Queen Bee" proved to be the heavier hitter and more effective in fighter. On a card that featured a total of eight fights this was no doubt the best and most competitive. When it went to the cards after six the judges preferred the all-action style of Gonzalez over the outside work of Ordonez in a very close but unanimous decision.
The card dubbed "Fight Nite at the Scottish Rite" Also featured a handful of other notable fights. 17-year-old Gregory "Goyo" Morales an extraordinarily talented and powerful kid, put on an amazing display of skill and power in knocking out 51-year-old Ben Guerrero who was making his professional debut. Knocking out his elder in 36 seconds. A straight right, left hook combo sent Guerrero into the ropes and "Goyo" jumped on him causing the referee to step in and wave it off.
Also on the action-packed card, San Antonio based Heavyweight Tyrell Herndon looked like a little version of "King Kong" Luis Ortiz in dismantling a heavyweight named Armando Herrera. Dropping him in the first round with a vicious body shot right before the bell rang. The San Antonio native finished off his man in the third by dropping Herrera three more times and finally causing the referee to step in and save Herrera from any more punishment.
The bout prior to the co-main events featured an undefeated southpaw. Vic Pasillas put on a star-making performance. The undefeated Featherweight put on a major league show of speed, reflexes, and combination punching in outclassing a game veteran named Alejandro Moreno, who came in a veteran of nearly 60 fights. Pasillas who has fought at major venues on major cards show, dominated with world-class reflexes and world championship type jab and movement. He is a very difficult target to hit as well as an accurate counter puncher with lightning quick reflexes. Pasillas a native of East LA was inactive for over two years before this fight and will look to take a step up in competition coming off of this win.
Also, a young lightweight by the name of Frank Brown continues to impress. Having just turned pro in 2016 he has drastically improved each time out and scored an impressive knockout. Brown displayed a very snappy jab and a ferocious body attack. He dropped his opponent twice in the second round which caused his corner to waive the fight off.
Ignacio Holguin celebrated his one-year anniversary of turning pro with a knockout over an overmatched Santiago Sanchez Bayardo. In a featherweight matchup, Holguin landed the punch of the night a perfectly placed uppercut the split Bayardo's guard and put him down for the count ending the fight in the first round.
1/9/17
Several new cards will come to The state of Texas in the upcoming months. The San Antonio boxing scene remains red hot on January 20th The Scottish Rite will play host to an exciting card titled "Fight Nite At The Scottish Rite". The card will headline Daniel Baiz a San Antonio based prospect who recently defeated Cuban prospect Yunier Calzada. It will also feature unbeaten prospect and fan favorite Vic Pasillas who last fought in Texas back in 2013 and put on an exciting performance in knocking out Salvador Perez.
On February 9th Roy Jones Jr Promotions will invade the Lone Star State again after it gave us an exciting show back in December in Austin. This time the RJJ show will be held in Laredo and will feature 130-pound mega-prospect Randy Moreno Ochoa.
1/6/17
Big time boxing returns to Texas. Two major cards will come to Texas in the upcoming months. On February 3rd Top Rank will hold a nationally televised event that will be aired on ESPN.  Undefeated Gilberto Rameriez will defend his WBO 168 pound title against undefeated prospect Habib Ahmed of Ghana.  Also, 115 pound IBF champ will defend against Israel Gonzalez, a very tough Mexican warrior.
On February 17th two former world champs will collide in El Paso on a nationally televised card. Devon Alexander and Victor Ortiz will square off for positioning in the loaded welterweight division. The Card will also feature "Sweet Hands" Caleb Plant who will square off with world class puncher Porky Medina.
12/15/17
The Alamodome is used to hosting World Champions, being home of Greg Popovich and the San Antonio Spurs and their 5 NBA Championships in just a 15-year span. The arena will now play host to another great championship duel. IBF Super Lightweight Champion Sergey Lipinets will defend his portion of the 140-pound championship against Pound For Pound elite and current lightweight Champion Mikey Garcia
Mikey Garcia will attempt to join two legends Manny Pacquiao and Juan Manuel Marquez as the only champions to win titles from featherweight to junior-welterweight )126 lbs to 140 lbs) when he meets Sergey Lipinets in San Antonio on Feb. 10. Garcia (37-0, 30 knockouts) bypassed higher-profile bouts against Miguel Cotto and current lightweight champion Jorge Linares, deciding on undefeated IBF Champ Lipinets (13-0, 10KOs), which will air live on Showtime. "It is a dream to have the opportunity to become a four-division world champion,'' Garcia said via press release. "San Antonio has some of the greatest boxing fans in the country, including some key supporters of my Robert Garcia Boxing Academy family. Since my last fight, I have stayed in the gym. I can't wait to give the fans in Texas and those watching at home on Showtime another great performance.''
Lipinets said "Getting the title is one thing, but keeping the title is a more difficult task, I'm not about to give it away to anybody. No disrespect to Mikey Garcia or anybody else out there, but I'm keeping my title. Beating Mikey Garcia will put me in the elite of boxing where I believe I belong. I'm happy my team was able to put this great fight together. I can promise you this won't be a snoozer. It's going to be an action-packed fight for sure.''
Mikey has a deep history of fighting in the Lone Star State, he last fought here back in 2013, when he knocked out Roman "Rocky" Martinez in Corpus Christi and prior to that he fought at the American Airlines Center in Dallas where he knocked out Juan Manuel Lopez. Garcia also fought in Quick Trip Ball park in Grand Prairie as well as in Laredo at the Laredo Energy Arena. In all it will be the sixth time Garcia has fought in the State of Texas. For Lipinets it will be his first professional trip to the Lone Star State. The Feb. 10 co-main event will also be a 140-pound title fight, Cuba's Rances Barthelemy (26-0, 13 KOS) meeting Belarus' Kiryl Relikh (21-2, 19 KOs) in a rematch for the WBA belt vacated by Terence Crawford.
Round Rock Sports Center, Round Rock, Texas – 12/8/17
Roy Jones Jr Boxing and Underwood promotions invaded the Austin area with an exceptional seven card fight. Which showed off much of the rising local Texas-based talent and two international up and coming superstars in the main event and co-main event. Both Filipino sensation Aston Palicte and Ali Akhmedov the monstrous punching Kazakhstani. Each main event fighters put on a show for the Austin crowd and showed why they are both rising stars in the respective divisions.
As for the local Texas based fighters, the home crowd certainly got their monies worth. In the televised opener, Waco based featherweight Antonio Castillo pulled a massive upset in spoiling the undefeated record of highly touted Mexican prospect. Manuel Mondragon. Castillo walked into the ring with a record of just (2-2) and was coming off of consecutive losses to lesser known fighters. From the opening bell Castillo was determined to establish him and show the crowd he belonged with the highly touted Mondragon. Establishing himself with a stiff jab and good head movement established him in the first round. In the second round, Mondragon took control of the fight landing right hands and left hook and avoiding Castillo and making him look bad at moments. In the final two stanzas of the scheduled four rounders, the Waco native bounced back and took control of the fight and dominated the second half of the fight with the stiff jab and movement. Out boxing the long and rangy Mondragon and winning the exchanges when they traded on the inside. Going to the cards at the end of the fourth the fight looked like it could go either way and by the narrowest of margins two of the three judges preferred the slick movement and stiff jab of the resilient Texan,Castillo improving his record to (3-2).
On the non televised portion of the card, Giovanni Loya, from El Paso, woke the audience up. In the first seconds, he dropped Stetson Horne with the first punch of the fight. Steston, making his pro debut, bravely got too his feet but was badly outclassed and finished off with less than a minute to go in the first round.
Bryan Vera, a long time favorite of Texas boxing fans, for wearing his famous Dallas Cowboys trunks, may have had his career sadly come to an end. While he was battered from pillar to post the entire night by a Louisiana based fighter by the name of Jas Phipps,who entered the ring with a record of (9-6-2) who also dropped Vera in the fifth on his way to winning a lop sided unanimous decision over Vera. Vera was once a world class fighter  with excellent wins over former world champions like Andy Lee, Sergio Mora twice and Serhiy Dzinziruk. Vera also was robbed of a decision he clearly earned against Julio Caesar Chavez jr back in the fall of 2013. The best days are now far behind him the only question is will the now 35- year-old Vera continue on or retire after a very solid career.
In a non televised thriller and what was no doubt the most exciting fight of the night two young Texas based fighters, Dallas based, Jonathan Steele (7-1-1) and unbeaten Kileen, Texas prospect Reshard Hicks  (9-0-1) put on a toe-to-toe thriller. Both Fighters proved Texas tough in this phone booth slug fest that had the Austin crowd on their feet the entire fight. Steele and Hicks stood toe-to-toe the entire night trading huge shots for all six rounds. As the final bell sounded there was no clear winner, as the judges also agreed calling it a draw. However, both Steele and Hicks showed a ton of heart and skill and each deserved to have the arm raised. Maybe we can get a rematch of this all-Texas shootout.