On a week that was dominated by British boxing, that saw multiple oddly scored fights, upsets, near upsets, and resurging prospects. It was one's man performance that may have gotten overlooked but should have captured the attention of the hardcore fight fan! Undefeated middleweight Danny Dignum bounced back from the first blemish of his career, a draw with Andrey Sirotkin, and a year layoff to score a career-best victory. Dingum of Essex, England, absolutely demolished Grant Dennis, dropped him three times on his way to a sixth-round TKO victory, moving his record to 14-0-1 (8), captured the WBO European belt, established himself as a world-level middleweight, and captures our Fighter of the Week award.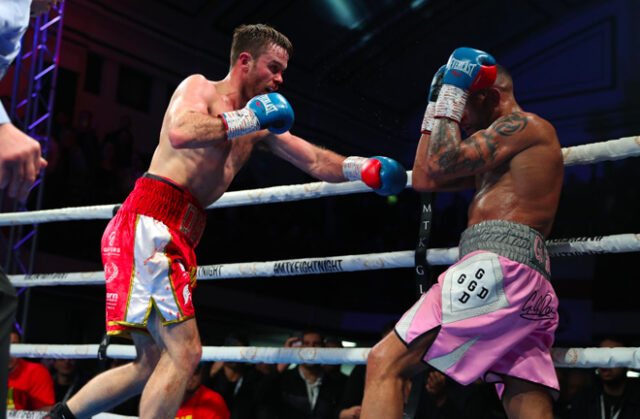 Dignum needed to bounce back he needed not just a win but a statement performance against Grant Dennis. The Essaxons did exactly that at the York Hall in London. Dignum started patiently, Dennis moved around the ring but Dignum stayed on the attack and picked his spot well throughout an even first round. He began to work the body and slow the speedy Dennis down and started getting closer with his heavy artillery. His momentum was halted in the third after Dennis landed a blistering right hand to back his opponent off and to make matters worse moments later a head but opened up a gash above Dignum's eye. However, Dignum was undeterred and had his best round in the fourth landing thudding power shots and breaking his man down turning the momentum of the fight in his favor once again. He dropped Dennis at the beginning of the sixth and battered Dennis and scored two more knockdowns in a fight that was allowed to go on far too long After the third knockdown the referee decided to waive off the bout giving Dignum the stoppage victory. Moving his record to 14-0-1(8). Postfight the victorious Essex native sad "I feel good. I've had 10 months out of the ring and now I'm back to winning ways. I just want to keep the ball rolling and I want a date penciled in straight away.
Dingum took a major step backward when he had to settle for a draw with Sirotkin, then nearly a year out of the ring left him an afterthought in the minds of many boxing fans and pundits. However, Friday's performance completely rejuvenated him and reintroduced him into the middleweight picture. He has since inked a deal with Probellum and there are plenty of good middleweights in the UK that he can scrap with. Showdowns with Felix Cash, Anthony Fowler or Jason Quigley would e a good step up and a solid metric. Should Dignum pass one of those tests next he will prove without a doubt that he is ready for the most elite level and in a wide-open 160-pound division he could get a title shot sooner rather than later.