On what was a relatively quiet weekend of boxing, the week's best performance comes from the most unusual of places. Rising Italian prospect the undefeated "King Toretto" Daniele Scardina of Rozzano, Italy made the 9-kilometer commute from his hometown to nearby Milan to put forth the second consecutive absolutely dominant, statement-making performance in a row. This time on Friday night "King Toretto"  beat down rugged veteran Juergen Doberstein, of Saarland, Germany over four violent lopsided rounds to secure the TKO victory, move his career record to 20-0 (16),  solidifies himself as a premier super middleweight contender, establishes himself as perhaps the crown jewel of Matchroom Italy and takes home the Fighter of the Week award.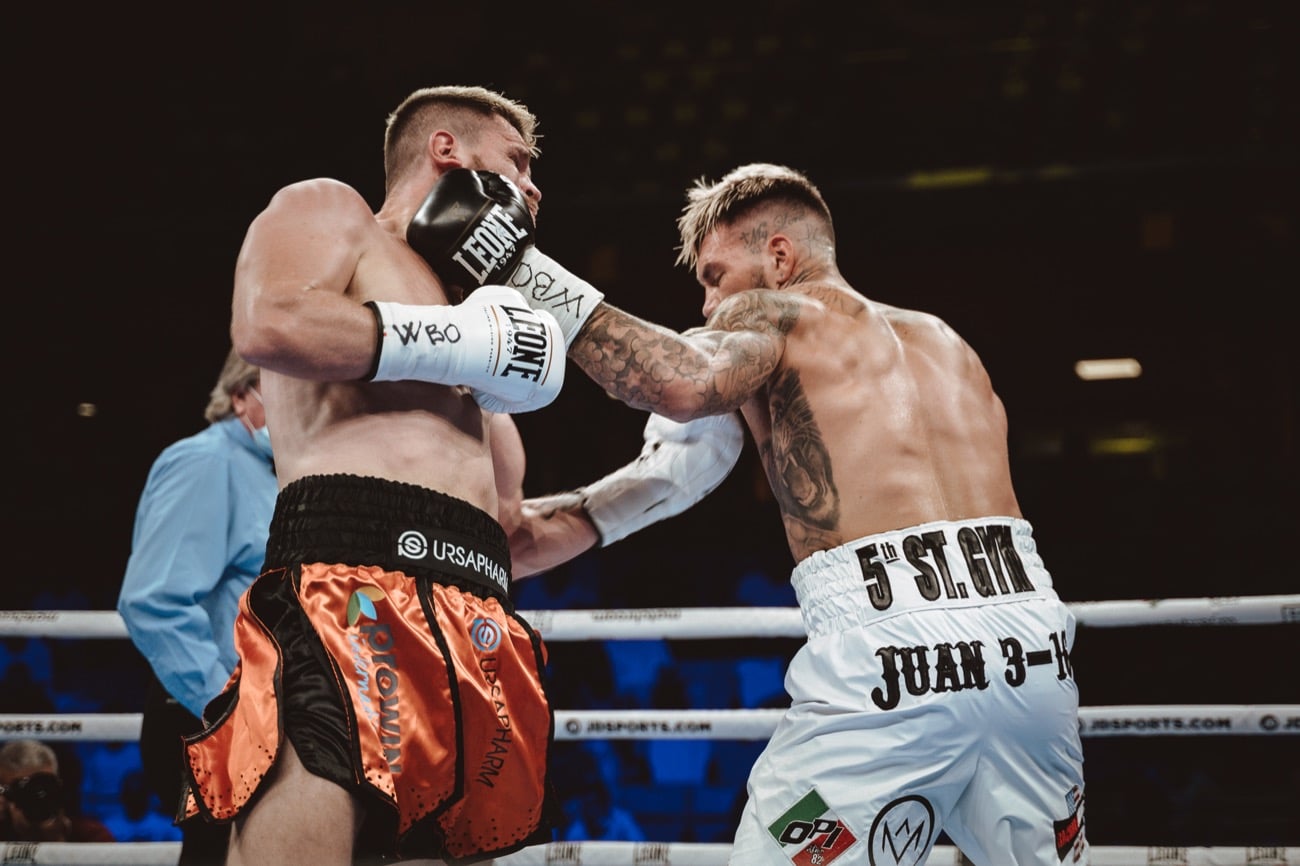 Scardina wanted to be tested, wanted to prove that he belongs in the world-title discussion. Doberstein was supposed to provide that test. A rugged German who had been in with elite-level opposition and had accumulated 26 career victories in a solid professional career. Despite being determined and rugged Doberstein proved to be no test at all for the hard-hitting Italian. "We figured him out round-by-round. This is what I was supposed to do, break him and beat him." It took King Toretta one round to figure things out. Stalking behind the high guard and jabbing his way in Scardina was able to track down Doberstein and caught his attention with a straight right hand about a minute into the second Stanza. Staying on the aggressive Scardina was able to jab his way in, nullify the work of his opponent and beating him up on the inside, and scored with a sweeping right hand with under a minute to go that hurt the German. The Lombardo continued to assault and wear down his opponent throughout the third catching him with a massive right hand late in the third and battering his opponent for the last 30 ticks. Setting up what happened in the fourth.  At about 54 seconds into the fourth Scardina turned over a left hand that snapped Doberstein's head back. Doberstein fought valiantly and fired big shots in return that was blocked and slipped by Scardina, who was countering with precision and had his opponent on wobbly legs. Jabbing his way up Scardina continued to land big shots on the inside, ripping uppercuts and short right hands on the inside had clearly taken their towel on Doberstein who's corner decided they had seen enough and waved off the bout. Handing the Italian prospect his 20th win and 16th stoppage in 20 career bouts. 
Scardina has scored two consecutive highly impressive victories and scored the victory by way of sensational stoppage. Scardina could be on a fast track to a big-money fight. The undefeated Italian will have a large natural fan base in New York and New jersey among Italian-Americans, and he has the snap behind his punches to keep the fans coming back. A fight with Brooklyn native Daniel Jacobs makes all too much sense to happen in either Madison Square Garden or Barclay's center. That fight may still be a win or two away for Scardina. Perhaps, a solid step-up fight for Scardina against the likes of someone like Caleb Truax, Demond Nicholson, or Roamer Alexis Angulo. Could propel Scardina in a name-value and into a big money fight with Jacobs or another one of the premier 168-pounders in the world.