On a weekend that featured the pound-for-pound star of the sport and had the pro debut of USA's best amateur standout in decades and several other standout prospects. Our Fighter of the Week award came from the most unexpected of fighters. Zhang Zhilei was supposed to have a relatively easy night work take apart an overmatched Jerry Forrest and absolutely Shine on the biggest card of his life with the eyes of the boxing world on him and set himself up for bigger and better things in the very near future. One problem, Forrest didn't receive the memo that he was just an opponent and was supposed to lose. Instead, he picked himself off the canvas dominated the second half of the fight, and earned a draw in a decision he probably deserved to win. Forrest picked up the best decision of his career, moved his record to 26-4-1, takes home our Fighter of the Week Award, and joins Tyson Fury as the only other fighter to win the award for not winning a fight. Fury was our Fighter of the Week following the Wilder draw in their first fight. 
All systems looked a go in the first three rounds of the Zhilei Zhang vs Jerry Forrest fight. The giant Chinese knockout artist had scored three knockdowns through the first nine minutes and looked to be well on his way to picking up his 18th stoppage victory in and run his record to 22-0. Except something strange happened on Zhang's road to superstardom, Forrest wasn't going away and the Zhoukou, China native found himself punched out and exhausted. In the second half of the fight, Zhang was relegated to holding on for life and trying to run out the clock. Forrest chopped away to the head and body, pummeling his 6'6 opponent. Beating up a stationary opponent who could muster up no offense Forrest down six points on the cards after three-rounds found himself back into the fight on the scorecards and had Zhang on the brink. The American got his big break in the ninth when Referee Frank Gentile deducted a point from Zhang for holding. Forrest seized the moment and unleashed on the undefeated favorite over the last three minutes and probably should have gotten credit for a 10-8 round but did not which ultimately forced him to settle for a majority decision draw with scores of 93-93 X2 and 95-93 in favor of the American.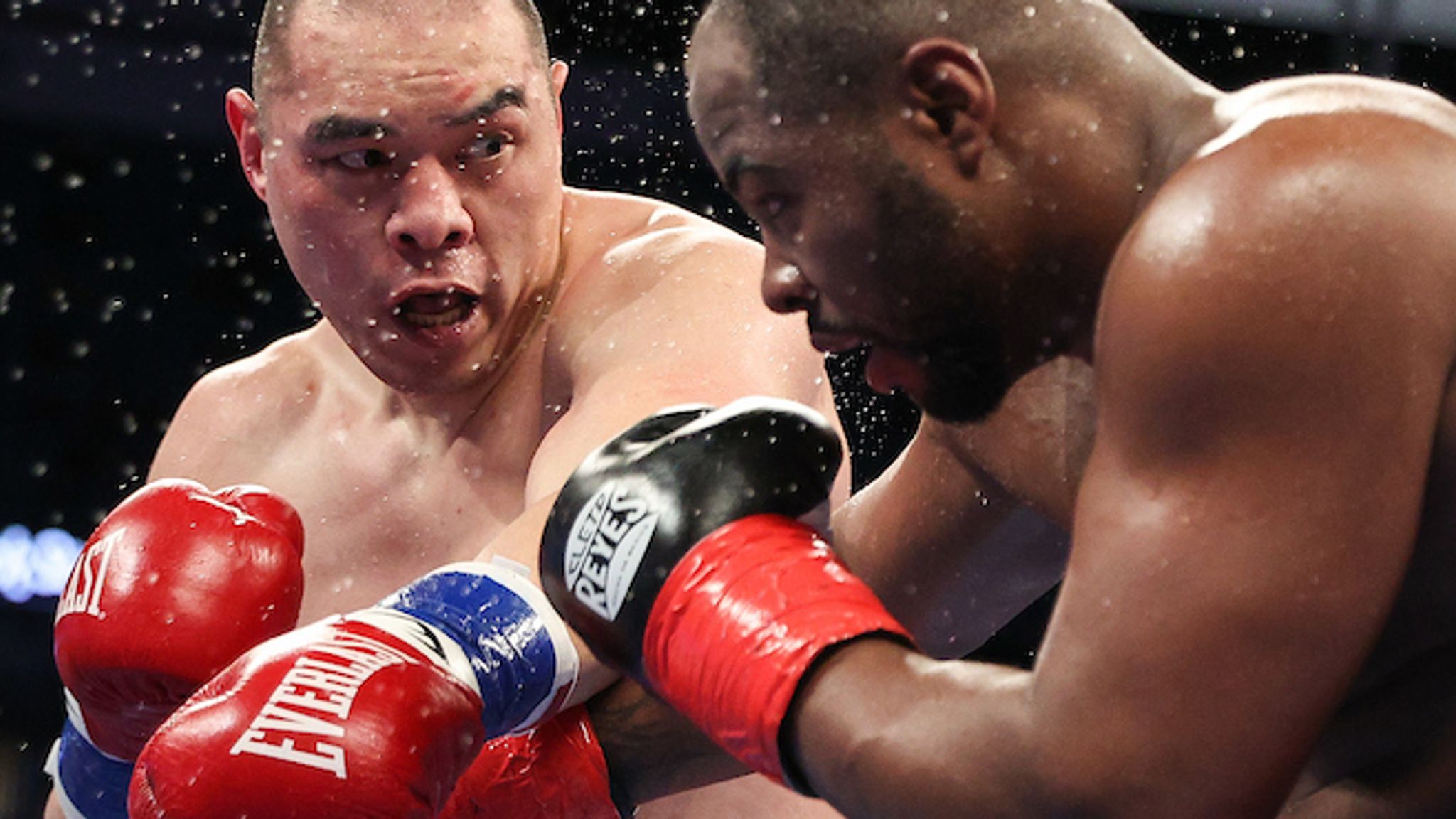 Forrest had stepped in the ring with several other heavyweight contenders and regarded prospects four previous times. Each time (Takam, Franklin, Hunter, Washington) he came up short, and three times he came up short. So getting a draw was a moral victory but also proved that Forrest was more than just an opponent and perhaps him calling out Anthony Joshua after scoring a draw with Zhang is a bit premature. Forrest won over the heart of boxing fans and secured himself at least another decent paycheck. Perhaps a rematch with Zhang will get made if not, a scrap with a high-level prospect like Michael Polite Coffie or Jared Anderson, or Guido Vianello could be made. He would also be a formidable challenge for guys like Adam Kownacki, Otto Wallin, or Efe Ajaba. Forrest has proven himself if nothing else to be a formidable opponent who can present a challenge and go-rounds with top guys.