On the second consecutive absolutely loaded wee od sweet science handing out the Fighter of the Week award was an impossible task. A resurgent knockout performance from a fringe contender, a former world title challenger finally secured the win he desperately needed to get back into the world title conversation, a former four-division world champion returned in victorious fashion. However, all of that pales in comparison to what two Mexican warriors did Saturday night at "The Bubble" in MGM Grand, in Las Vegas, Nevada. Former featherweight kingpin Oscar Valdez of Sonora, Mexico, scored a stunning upset in devastating fashion of Miguel "El Alacran" Berchelt of Cancun, Mexico, via 10th round knockout in what will most likely be the 2021 "Knockout of the Year". Valdez captured not only the career-defining victory he was desperately in need of but also takes home the WBC Super featherweight title and our Fighter of the Week award and runs his record to 29-0 (23).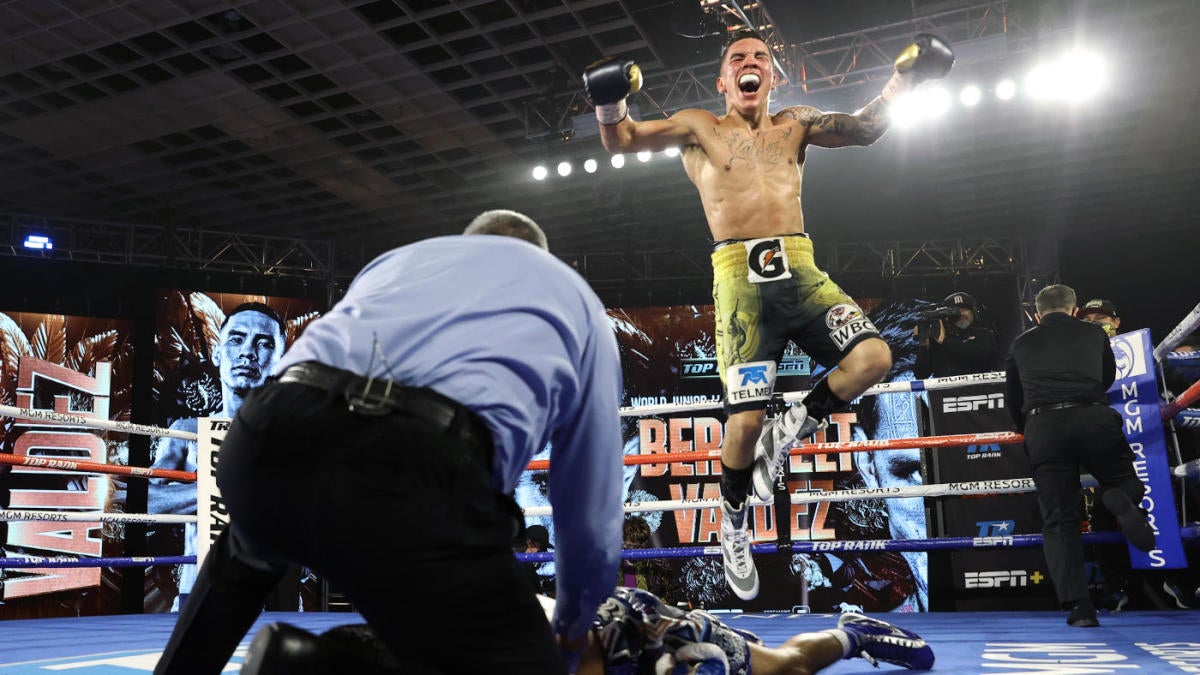 Moments, before the ring walks at the MGM Grand late money, started to pour in on the challenger. Cutting into the nearly 4-1 odds against him just days before. That should have come as an omen, Valdez was not going to be broken down and just go away. He worked off the jab in the early rounds holding his own and using movement to stop Berchelt, from just walking in the front door. Darting in and out with the jab and occasional left hook Valdez was scoring at will and kept the champ from getting comfortable. Then stunned the champ with a left hook late in the fourth round and followed with a barrage of power shots and scored a knockdown with just seconds left in the stanza. Berchelt managed to survive the 5th and 6th and started to rally back. Hurting Valdez with body shots in the seventh he seemed to be fighting his way back into the fight. With the momentum seemingly changing back into the favor of Berchelt. Valdez came firing back and seized control of the fight for good in the ninth when an uppercut from out of nowhere put Berchelt on the seat of his pants. With about a minute to go in the round, he valiantly got up but never had his legs underneath him again and the fight should have perhaps been stopped right then, but the rugged champ was given a chance to fight on. The Challenger stayed on the aggressive. The end came minutes later just before the bell rang to end the tenth. An explosive left hand caught El Alacran coming in face first and collapsed him to the ground where he would stay for several minutes. Valdez moved his record to 29-0 and became a multi-division world champion most impressive fashion.
Oscar Valdez had looked extremely pedestrian at 130-pounds prior to destroying "El Alacran". He scored two come from behind knockouts over long-term stepping stone, Jayson Velez, and prior to that a skilled but undersized and unproven Adam Lopez. Nothing he had done at the weight class would have been an indicator of what he was going to do Saturday night in the bubble. Valdez was a sinking stock, he came along with much hype, a multidimensional boxer with above average, power, speed, and skills that was giving average performances and being exposed at the highest level. Valdez changed all of that with a sensational performance and has secured himself a massive payday with one of the big names in the weight class. If not a rematch with Berchhelt, fights with Hering-Frampton winner or Shakur Stevenson are all available and easily makeable. As is a scrap with former three-division world champ Vasyl Lomachenko should he return to 130-pounds. All of these are not only makeable on the Top Rank side, given his last performance they are all winnable fights for the 30-year-old native of Nogales, Mexico.