Gary Kittilsen
In what was an extremely busy week of boxing, that saw multiple major upsets, a historically bad decision, a hysterically bad call by a referee, as well as five major fight cards. Boxing had finally returned in a meaningful way. Despite all of the rarities that we saw this week, boxing seemed back to normal. Matchroom Boxing finally returned to US soil for the first time since the coronavirus outbreak and it produced our Fighter of the Week award winner. For the first time, the award goes to a woman boxer. Jessica "CasKilla" McCaskill, a Chicago native, overcame homelessness on her way to becoming an investment banker and on Saturday night become the first woman to overcome the legendary Cecilia Brækhusand, who was one successful title defense away from surpassing Joe Louis's all-time record of 25 consecutive successful title defenses and ran her record to 9-2 (3) in becoming the undisputed women's welterweight champion of the world. Adding four more major belts to the two belts she had already unified at 140 pounds last year.
McCaskill walked into the bout a prohibitive 6-1 underdog, was picked by almost no one to put the first blemish on Braekhaus's perfect record, and as soon as they got into the ring she was noticeably smaller than the Norweigian world champion. Another thing became abundantly clear as soon as the fight started, the CasKilla was not afraid and was not going to fight like a 6-1 underdog. The American quickly attacked Braekhaus working her way to the inside and letting her hands go while there. Continually landing thudding right hands on the side of the champions head helping her build up an early lead on the scorecards. Braekhaus, re-established herself in the middle rounds. Keeping the aggressive McCkaskill at bay with her length and snapping jab as well as landing sniper-like straight rights that just didn't seem to miss. With the fight up for grabs going into the last two rounds, McCaskill was determined not to let her opportunity slip away. She worked behind the jab to get back on the inside of her rangy opponent forcing her backward with a stiff jab and overhand right. Keeping up the pace in the final round the Chicagoan refused to be denied and was again able to outwork Braekhaus in taking the final round on her work rate. She outworked Braekhaus all night long, out throwing her by more than 230 punches in all. It was the aggression and work rate that proved to be the difference. McCaskill was awarded the majority decision by scores of 97-94, 97-93 with the third judge handing in an even 95-95 card. Following the fight, an ecstatic McCaskill said "This is for the fourth-grade homeless Jessica, This is for the little girl that just didn't care what people thought about her, and learned to love herself even though she was really weird. And for the me now that sacrifices everything to put this sport first and make a difference."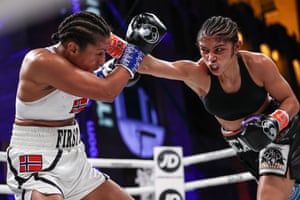 It's been nearly three years since McCaskill's last loss, a highly competitive decision loss at the hands of Katie Taylor. McCaskill was largely unheard of when she first stood toe to toe with Taylor, and the effort she put forth skyrocketed her stock. That was 2017, and the CasKilla may finally be closing in on a rematch with her conqueror. Her win over Braekhasu was somewhat of a semi-final in a four-woman tournament. The winner would likely faceoff with the winner of Katie Taylor and Delfine Persoon of Belgium, who are slated to meet next Saturday. Taylor received a controversial decision over Persoon 14-months ago in Madison Square Garden. If Taylor can again get past Delfoon it will set the stage for a rematch between McCaskill and Taylor.