With the coronavirus running its course and wreaking havoc all over the earth it would inevitably impact and devastate our community, the boxing community and it certainly has done just that.The name Angelo Rottoli may not exactly be a household name for many casual fight fans. However, as the son of an Italian immigrant mother, Rottoli had a special place in our family's sporting hearts.
Unlike, the USA or the UK or Mexico which are traditionally and historically boxing rich countries, Italy is not known for producing elite-level world-class prizefighters.Championship level fighters are few and far between in Italy. However, alongside the likes of such names as Vito Antuofermo, Silvio Branco, Giovanni Parisi, Francesco Damiani, Gianfranco Rosi, and former Olympic medalist and amateur standout Clemente Russo who beat both Deontay Wilder and Oleksandr Usyk in the 2008 Olympic games, Angelo Rottoli was one of just a handful of standout Italian fighters.Angelo Rottoli, of Bergamo, Italy tragically lost his battle with the coronavirus on Sunday heroically battling the virus for two weeks before finally succumbing to covid19, a virus that also took the life of his mother and his brother. Rottolli was just 61-years-old.
Alongside former 154-pound IBF champ Gianfranco Rosi, who turned pro at about the same time as Rottoli and was about the same age, Rottoli rejuvenated the Italian boxing scene and garnered international attention.The pair were the face of Italian boxing and the motivation for thousands of young Italian amateurs for a generation to come. If These two could make it to the highest of levels we could too. Rottoli turned pro in December of 1981 in the most unimpressive of fashion a four-draw with an 0-1 fighter named Damien Marignan of Guayana.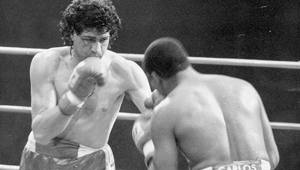 Not discouraged in the slightest Rottoli fought on winning his next 13 fights and captured the Italian light heavyweight title in his hometown by stopping Daniele Laghi. A title he would defend four times before vacating.The Italian champion would then fight in the US for the first time in 1985 capturing a unanimous decision victory before returning home to Italy and successful challenging for the Italian heavyweight title by outpointing Guido Trane.
Moving on to bigger and better things Rottoli, an undersized heavyweight would drop the Italian belt and compete as a cruiserweight. He put together a string of six consecutive wins and earned a shot at the WBC world cruiserweight champion Carlos De Leon in 1987. Rottoli fought valiantly but came up short in his world title shot.
Just like he did after his draw in his pro debut, Rottoli was not deterred and fought on. Going on to capture the two best wins of his career just a year and a half after his first career lost pulling an upset over highly touted cruiserweight challenger Bash Ali to capture the World Boxing Council International Cruiserweight Title and seven months later he pulled another upset.This time over an undefeated prospect by the name of Magne Havnaa for the EBU European cruiserweight title. This time Rottoli rallied late to sweep the final rounds and eeked out a majority decision and capture the European title. This would be the last win of his professional career as he would lose his title in his inaugural defense in an epic battle with Anaclet Wamba of France, dropping a very close and controversial 12 round majority decision.
Rottoli would fight just one more time against a largely unknown fighter from Argentina names Daniel Neto in Milan where he dropped an eight-round decisionThe famed Italian champ accumulated an impressive professional record of 29-3-2 (15 KO) competing for a decade from 1981 to 1990 when he announced his retirement. Rottoli's legacy will live on and he is remembered as one of the most accomplished Italian boxers of his era.