Certain fighters lack a spectacular record and are better and far more challenging in real life then their record suggests they are on paper. One such fighter is Tiajuana tough guy Mario Tinoco. Tinoco had amassed a professional record of just 18-5-4 entering his fight in Monoco on the 30th of November. A less than stellar record, but the rugged Mexican has been in the ring with current world champs Mario Barrios and Devin Haney, former world champ Miguel Roman and was just six months removed from upsetting unbeaten prospect Jordan Gill. Tinoco was a handful for each and every one of those names and none of those impressive names handles him as well as did our November Prospect Of The Month Joe Cordina. Cordina, of Cardiff, Wales, ran his record to 11-0 (7) and added another name to his already impressive resume, a resume that includes Sean Dodd, Hakim Ben Ali and Gavin Gwynne.
Cordina, a 2016 olympian, was facing the biggest and toughest challenge of his young career and passed that test with flying colors. Using his natural size and reach advantage to perfection against the shorter Tinoco he also displayed world-class hand speed and combination punching in keeping the aggressive Mexican at bay. Cordina was especially successful in maintaining distance and controlling his opponent with a sharp jab putting the early rounds in the bank and building up a lead in the scorecards. The middle rounds saw Tinoco being able to get on the inside and make Cordina a bit uncomfortable but was never able to hurt the Cardiff native on the inside. Cordina responded brilliantly in the close exchanges and was actually getting the better of many of the exchanges on the inside. Leaving Tinoco with no other option but to go for broke in the final round and try to score a stoppage. Tinoco did just that and landed a few good shots on the olympian but never had him in any real trouble as Cordina ran out the clock and picked up the clear unanimous decision victory by scores of 98-92 twice and 96-94. Making Cordina's introduction to the 130-pound division a successful one. Cordina said of fighting in the new weight class "I felt fine. I felt perfect and got the win comfortably. I didn't feel under pressure at any point. Don't get me wrong – he can whack and he's got a lot of knockouts, which his record shows. And he can dig. I was wary of that power from early on. But after I got in a rhythm, it was fine. He was no threat at all."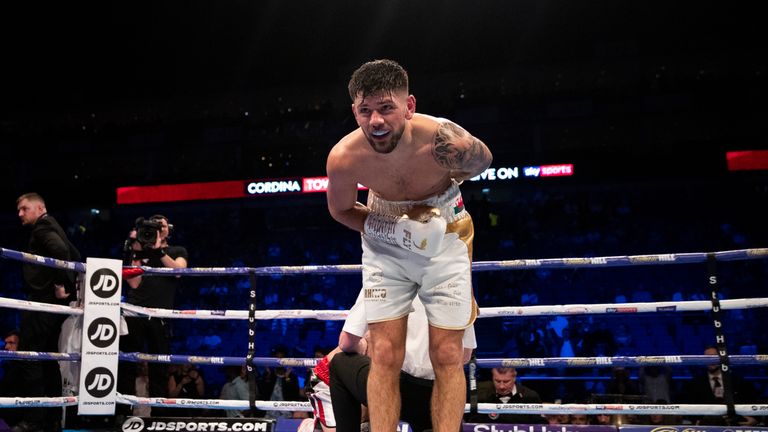 Having just turned 28 years old on the first of December Cordina is still young, but he is entering his prime. He is close to a finished product and should be moved quickly by Eddie Hearn. 130 is not the most loaded division in the sport especially with the exodus of Tank Davis who will be campaigning at 135. A step up fight for Welshmen is definitely in order, former world champion like Andrew Cancio or former world title challenger Philly tough guy Jason Sosa would be a good step up. If he impresses against someone at that level an all Matchroom showdown with IBF 130-pound champ Tevin Farmer will be the next logical step for both fighters. Despite having just 11 pro bouts Cordina could realistically be fighting for a world title by the third or fourth quarter of 2020 and have a realistic chance of winning.