Not often does a fighter from the smaller weight classes capture the imagination of the boxing world. In order for that to happen the little man most be skilled, powerful with an ability to move up in weight and posses the personality to match. From 2007-2012 the Filipino Flash did just that, capturing titles in four different weight classes, scoring multiple knockout of the year type knockouts, surging up pound for pound lists while pacing his path to Canasota and the International Boxing Hall of Fame and causing fight fans to day dream of an all Filipino showdown with Manny Pacquiao who surged up the weight classes seamlessly just a few years prior to Donaire pulling off the trick. During his reign of dominance Donaire was one of boxing's good guys, a likable underdog with a humble personality, incredible one punch power and a super arable wife always by his side. There wasn't much to dislike about the Filipino Flash.
Donaire's resume is unquestionable, throughout his hall of fame he has put together wins over Vic Darchinyan x2, Fernando Montiel, Moruti Mthalane, Raul Martinez, Omar Narvaez , Wilfredo Vazquez Jr, Jeffrey Mathebula, Toshiaki Nishioka, Jorge Arce, and Ryan Burnett. An incredible resume by any standard. Not bad for a guy that lost his second pro fight to asome dude with a 2-1 record who no one had ever heard of or heard from since. A hall of fame career seemed like an absurd standard for Donaire to live up to, but the underdog in him, that little engine that could, did just that. However, regardless of the countless belts and accolades he accomplished Donaire is most remembered by the fickle boxing community for a loss in his biggest fight against Cuban sensation Guillermo Rignodeaux, whom may be a hall of famer in his own right, in New York Cities Radio City Music Hall. In a match-up that featured not just the two best 122-pounders at the time but the two best of their generation. The master boxer that is El Chacal built up a big lead early but The Flash battled back even scoring a knockdown in round 11 to get the fight close on the cards. But it was Rigo, the two time gold medalist, who escaped with a well earned UD victory. Despite all of his success and his reign of dominance this is what's most associated with Donaires name. It's one of the most unfair correlations in the history of American sports. Donaire never seemed to be the same after the Rigo fight,despite going on to win two more world titles at two drastically different weight classes. Winning WBA featherweight gold by defeating Simpiwe Vetyeka and then going all the way down to 118 again and winning the WBA crown in that division by besting Ryan Burnett.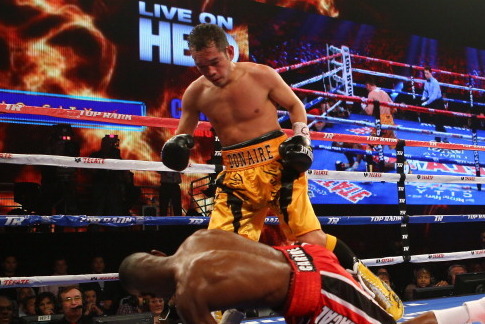 No fighter can go on forever and at 36 the Filipino Flash proved he can still compete at a high level. However, If last week in Japan is the last time we see Donaire he can walk away on his shield and the four division former world champ can call it a career on a high note a la Vladimir Klitchko. Giving a great, young monster the biggest challenge of his career thus for Donaire may have some war left in him and be able to give fans a flash of what he was in the past. However, at this point there's no shame at all in walking away from the sport.after a performance like that and await for the IBHOF to call him up and enshrine him into the hall of fame were his impressive resume, achievements and accolades can go on and live on in boxing lore forever.