On a weekend that was loaded with veteran fighters in career-defining fights attempting to make one last stand and keep themselves relevant and in the title picture. One of those performances stood out above all others as Sam Eggington, walked into enemy territory at the Tuscany Hall in Florence. Italy and walked out with the IBF International Super Welter Title, a "savage" second-round knockout of the hometown hero, Orlando Fiordigiglio and captured our Fighter of the Week award. The "Savage" Sam Eggington was supposed to simply be a name on the resume of the Italian fighter, who was being primed for bigger and better things. Eggington was considered to be little more than an opponent after losses to Liam Smith and Hassan Mwakinyo in the last 12 months. The Brit had rebounded with just two insignificant wins over two fighters with a combined record of 14-160-4 was thought to be little threat to Fiordigiglio but Eggington has different plans as he handed in what was perhaps the best performance of his career and certainly his most relevant victory since stopping former two-division world champ Paulie Malignaggi back in March of 2017 and has set himself firmly back in the picture in the 154 pound division.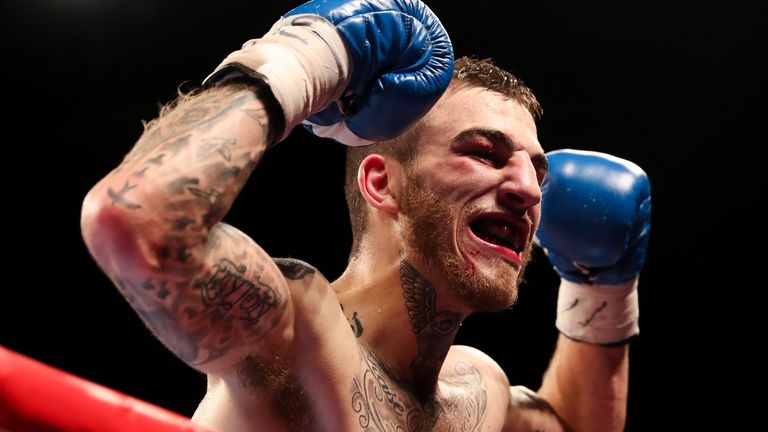 Along with Fabio Turchi. Orlando Fiordididlio was considered to be the prize jewel of Matchroom Italy, a veteran boxer with excellent speed and footwork and already in possession of a regional title he was considered to be simply too skilled for a slugger like Eggington. The Brit, however, had different plans as he was able to out jab the speedy Italian and use his jab to set us a sweeping left hook just a minute into the first round that caught Fiordigiglio's attention. A right-hand moments later snapped the hometown fighters head back. In the closing seconds of the first round, Eggington walked right through a combination thrown by the feather fisted Italian pinned him against the works and nailed him with a left hook to the body and right hand to the head. As the bell sounded to end round one it was obvious Fiordigiglio wasn't going to be able to simply outbox and out move his opponent and didn't have the power to Keep the " Savage" off of him. He was going to have to come up with a plan B. Unfortunately for Fiodigiglio and his hometown crowd there was no plan B. Eggington came out aggressive to start the second ripping off right hands to the head and body of his opponent. A crisp right hand with about a minute to go in the round staggered his opponent and sent him into the ropes. Eggington jumped on his hurt opponent and would not allow him to tie up as he fired off about 20 a barrage of 20 shots most of which landed cleanly and brought in referee Ammar Sakaroui to call a halt to the bout with 47 seconds remaining in round two.
Eggington re-established himself as a world-class fighter and put himself back in the 154-pound picture, a By division that is stacked with good fighters but may not have a dominant one. Given this performance, the Birmingham native may look to secure a rematch with Liam Smith or Bradley Skeete who beat him back in 2016. Other fights that could be made within the Matchroom Stable would include Kell Brook, Scott Fitzgerald, Anthony Fowler or Ted Cheeseman a showdown with American Jessie Vargas would also be an all-action fight that could easily be made. Given his latest performance and his all-action entertaining style, there will be intrigue for any of those fights and Eggington would have a legitimate shot against any of those top names.