On what was a very quiet weekend of boxing, one little known prospect, on a small Thursday night Golden Boy card in the Belasco Theatre, in Los Angeles caught the eye of the boxing world as well captured our fighter of the week award. Undefeated 130-pound prospect from Salinas, Puerto Rico. Edwin Valentin put together a dominating and one-sided victory in what was a step up fight against a rugged ring veteran Deivi Julio Bassa, of Columbia. A slick southpaw who was entering his 30th professional fight. Valentin who sells out arenas in his hometown was fighting outside of Puerto Rico for the first time in his young career and was highly impressive dominating round after round over the entirety of the scheduled eight-rounder.
There is an obvious stylistic comparison between Edwin Valentin and the legendary four-division world champ and Puerto Rican legend Miguel Cotto. Both are come forward body punchers with a dynamite left hooks and an underrated jab.The Puerto Rican upstart executed that style perfectly on Thursday night. Attacking the body from the opening round on. Landing left hooks and hard right hands to the body of Bassa as well as thudding left hooks to the head. In round five it was the straight right that did the job, as Valentin landed it to Bassa's temple and sent him staggering backwards. After tasting that power the Columbian went immediately into retreat mode, where he would stay for the remainder of the fight. No longer coming forward Bassa was content trying to avoid the constant pressure and ferocious body attack of the younger, stronger Valentin. In the end, the final verdict was academic, all three judges awarded the Puerto Rican fighter a lopsided decision by the score of 79-73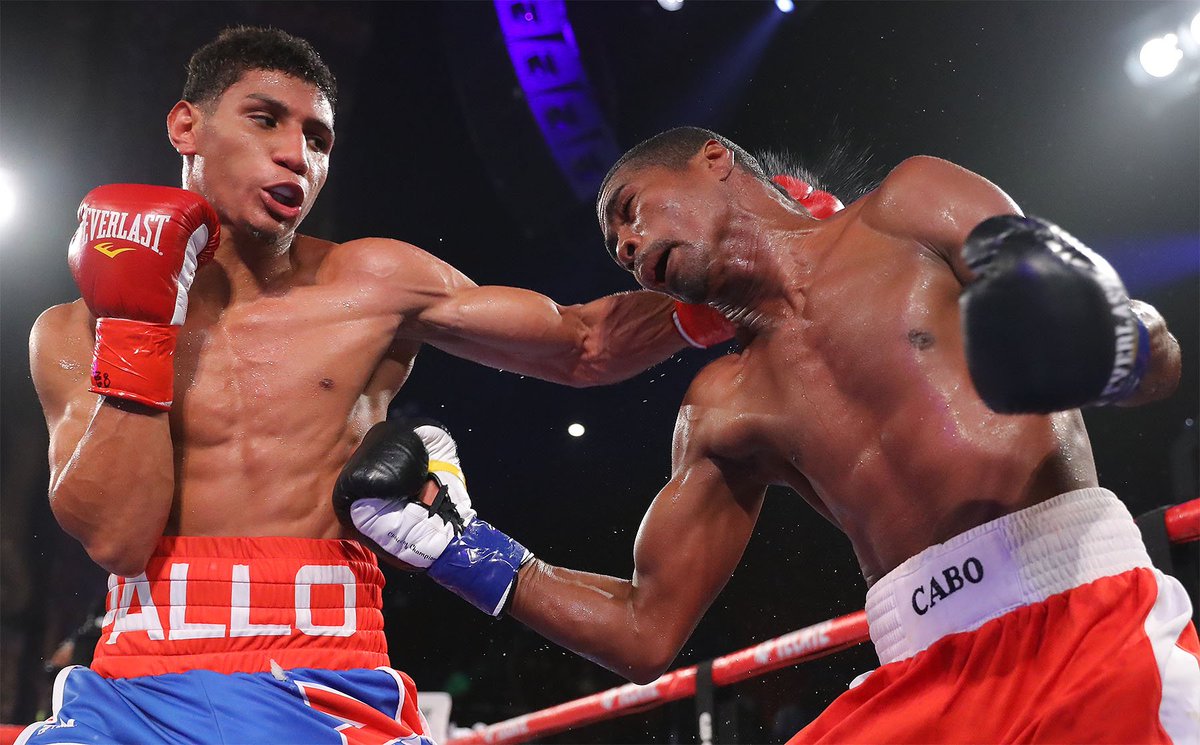 It was exactly what team Valentin would have wanted for their fighter who had not been past the third round in his previous eight bouts. A dominating performance where he was pushed the full eights rounds but was able to dominate round after round and impose his will on a game, durable and skilled but overmatched opponent. There's no question Valentin is a come forward stalker. However, there's far more in his arsenal than just thudding power shots and a come forward assault. He is methodical with his punches, throws beautiful four and five punch combination, and sports excellent footwork and head movement to stay out of the way of his opponents return fire. He also has a snapping jab that he uses to keep his opponent at the range when he wants to and allows him to work his way onto the inside when he wants to attack. The legendary fighting island of Puerto Rico is without a world champ and without its next big-time superstar. Valentin is still early in his progression but has all the makings of a future world champ and has already demonstrated an ability to sell tickets. Fortunately for the undefeated super featherweight prospect, he is on the right side of the promotional street as Golden Boy also represents Jo Jo Diaz and Lamont Roach, two 130-pounders who are on a fast track to world titles at that weight. World titles that Valentin may be ready to challenge for in the very near future.