The lineal Heavyweight champion taking a tune-up fight against an undeserving and unknown fringe contender, outside of a stunning upset, is not supposed to produce the fighter of the week winner. However, Tyson Fury put on a dazzling display of skill in stopping, and utterly destroying the little known Tom Schwarz, of Germany in the second round. The lineal champ showed off the unique skills that not only makes him the most skilled big man in the world but simply one of the most skilled fighters on the face of the earth. Period! The Gypsy King, strolled into Las Vegas, dressed up like Apollo Creed in Rocky IV, entered to "Living In America" and put on a show for the nearly 10,000 fans at the MGM Grand proving not only his status but also his stardom and showmanship ability and capturing his third "Fighter of The Week" award.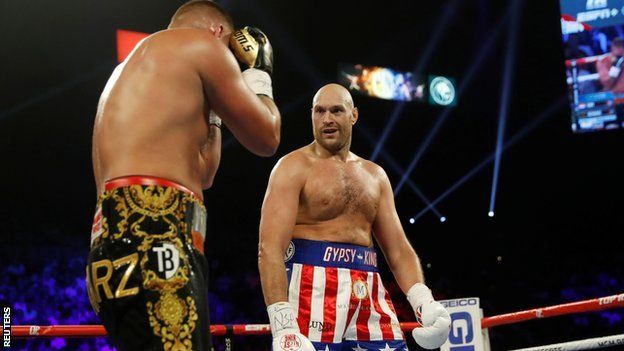 Fury easily destroyed the unknown Tom Schwarz, bouncing around, dodging punches and working off the lightning-quick jab and smooth lateral movement. The 263 pound Fury boxed like a man half his size. At moments the British fighter switched to the southpaw stance and haunted on the overmatched German contender. Fury outmaneuvered and outclassed Schwarz until setting him up for the kill in the second round. Scoring with a perfect uppercut that wobbled Schwar, seconds later, Fury, began to sit down on his punches and began to unload, scoring with muliple power shots. One particular big left hand sent Schwarz crumbling to the canvas, bringing an end to the fight. Post-fight Fury said "The key was to enjoy myself, I used the jab. I was slipping with my hands down and sliding and shifted to southpaw, and I caught him with a straight left. It was a good shot. It would have put anybody away."
The exact reason for this fight is unknown but the "Gypsy King" looked spectacular in if it was supposed to be a showcase fight to make him look good it accomplished exactly that. If you didn't think Fury was the number one heavyweight in the world prior to this weekend you probably haven't changed your mind if you did think Fury was the best heavyweight in their world the fight confirmed the feeling. It now, however, gives Fury and Top Rank, no other options they have to Wilder next. According to multiples sources not only was an agreement in place but the contract was signed and the Wilder fight will be made in early 2020, is unknown if Fury will fight in the interim. Wilder, will have a rematch with Luis Ortiz. The first fight was a fight of the year candidate. If Wilder does indeed win a fight between the lineal champ and the long-reigning champ looks to be a done deal.