On a week that featured the biggest fight of the year, a fight featuring the biggest name in the sport in a unification bout, logically the winner of that megafight would walk away with the Fighter Of The Week award. Someone else would have to do something truly special to capture the award. The 21-year old Vergil Ortiz did just that to snatch this weeks award. Ortiz once again showed the world why he is considered one of the best prospects in the sport. Ortiz came out in very impressive fashion in the first two rounds. Constantly backing Herrera down with a powerful shotgun jab and followed up with vicious straight right hands that seemed to damage Herrera every time they landed. With the second round coming to an end Ortiz went from looking very impressive to looking like a killer. Tattooing his opponent with a straight right hand and then battering him with a whirlwind of punches that sent him sinking to the canvas as the bell rang to the end the second. Herrera never fully recovered and was still on very unsteady legs as the third round began. Ortiz jumped on his hurt opponent and landed two big straight rights and put a left-hook behind it that knocked Herrera out cold before hitting the mat. Giving Ortiz his 13th knockout victory in 13 fights.
Following the performance, the typically very self-critical Ortiz expressed satisfaction with his performance saying "I'm actually pretty proud of this fight. If you know me and kept up with my fights, I'm usually not satisfied with my performance, I am very satisfied with my performance tonight. Everyone thinks that I don't have all that experience just because I'm 13-0 now. People don't realize I work in the gym hard every day. I spar world champions all the time."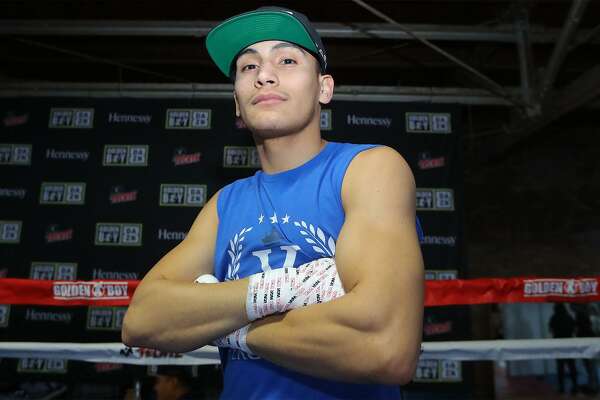 Ortiz and his promoter Oscar De La Hoya have spoken about getting him a world title shot before the calendar year is up. Ortiz has called out WBO 140-pound champion Maurice Hooker also of Dallas, Texas, countless times. A fight between the two Texans would be a massive draw, in the Lone Star state. The fighters know each other well and both have a relatively large following in their home state. The fight is also very makeable as Hooker is signed with Matchroom and Ortiz is inked to Golden Boy and both of those promotional companies have contracted to exclusively stream on DAZN. If an all-Texas shootout with Hooker can't be made, the other available champion is WBC champ Jose Carlos Ramirez who is Signed to Top Rank. The other champions in the division are tied up in the WBSS tournament.