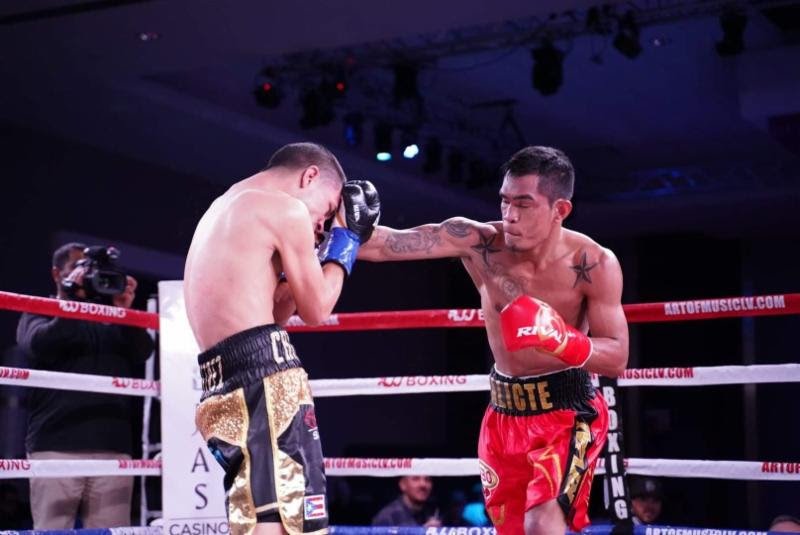 Aston Palicte continues to get the short end of the stick. After we scored the very controversial decision in favor of Palicte over Nietes 115-113 a fight that was scored a three-way draw by the judged for the vacant WBO strap. Palicte was denied a big money rematch with Nietes for reasons they won't tell us about. Instead, Kaz Ioka was given the shot against Nietes for the still-vacant belt instead and Palicte had to fight for the shot he already earned. Doing so in spectacular fashion. Scoring a vicious knockout over unbeaten Puerto Rican contender Jose Martinez in the second round. Following the victory, Palicte was mandated to fight Nietes in an all Filipino showdown. Nietes opted to drop the belt and avoid the rematch with the massive-punching Super Flyweight. Now Palicte will finally get the title shot he earned and will get against Kaz Ioka but will have to travel to Ioka's home in Japan on June 9th.
The Next great Brooklyn based boxer Nikita Ababiy will make his UK debut on April 20th at The O2 Arena in London on the undercard of Dave Allen's showdown with former Heavyweight Champion Lucas Browne and Derek Chisora's clash with Senad Gashi, which airs live on Sky Sports in the UK and DAZN in the US. Ababiy is a 20-year- middleweight known as White Chocolate' who is along with OJ3 (our prospect of the month for March) the next generation of Matchroom/DAZN fighters who are expected to carry the brand into the next era. No opponent has been named yet. The Brooklynite has made a perfect start to his career in the pro ranks winning all of his first three bouts by knockout in the first round. An amateur standout at just 20 years old Ababiy doesnt want to waste any time on his quest to become a World Champion and he and promoter Eddie Hearn and forging that path.
Top Rank's top protege has just made headlines and not for great reasons. Newark's own Shakur Stevenson was in a Miami Beach brawl in a garage making matters worse the Featherweights garage room brawl has gone viral. Stevenson was arrested for the brawl back in July of 2018. Stevenson was arrested on July 1 of last year and charged with misdemeanor battery. The case is still ongoing with the last court date listed on March 11. There different misdemeanor battery charges and one count of felony battery being pursued by the prosecutor. A trial hearing is scheduled for June 10. According to the police report obtained by Miami 10 in Florida, Stevenson and another boxer, David Grayton a welterweight gatekeeper, made comments to a group of people in the location, including two women to whom they allegedly directed sexual innuendo, which started the brawl.