In a weekend that was chock filled of blue-chip prospects in action, it was that one that wasn't supposed to win, that walked away with our "Fighter Of The Week" award. Most pundits and experts expected the Anthony Fowler-Scott Fitzgerald to be a highly competitive and entertaining scrap, but ultimately Fowler would walk away the victor in the battle of unbeaten prospects. Fowler went in the ring like a "Mad Man" and proved the public wrong. Coming from behind, and with the highly competitive battle lying in the balance, Fitzy showed the heart of a champion in scoring a massive knockdown in the final round to pull off the upset victory.
In the battle of unbeaten Briitish 154-pounders, both talked a considerable amount of trash in the build-up and then delivered in the ring with an action-packed scrap. Fowler controlled the action in the early rounds with a sharp jab and thudding combinations. Seemingly behind on the cards, Fitzgerald a sizeable underdog never panicked, instead settled in and battled his way back. Evening up the fight going into the ninth and seemed to have momentum on his side. However, it was Fowler, who may have seen the fight slipping away, who seized control, rocking Fitzgerald with a vicious uppercut and following up with one big power shot after another. It appeared to be the beginning of the end for Fitzy. This was not the case however, as the "Mad Man" in desperate need of a big round bounced back. Big time! Fitzgerald connected with an uppercut of his own and followed up with a couple of crisp left hooks that put Fowler on the floor. Fowler was able to get to his feet but was on very unsteady legs. Fitzgerald again went on the attack, looking for the finish, but perhaps punched himself out, and backed off with about 30 seconds left. The knockdown proved to be the difference. Fitzgerald took the SD by scores of 95-94 twice in his favor and the third judge scoring it 96-94 the other way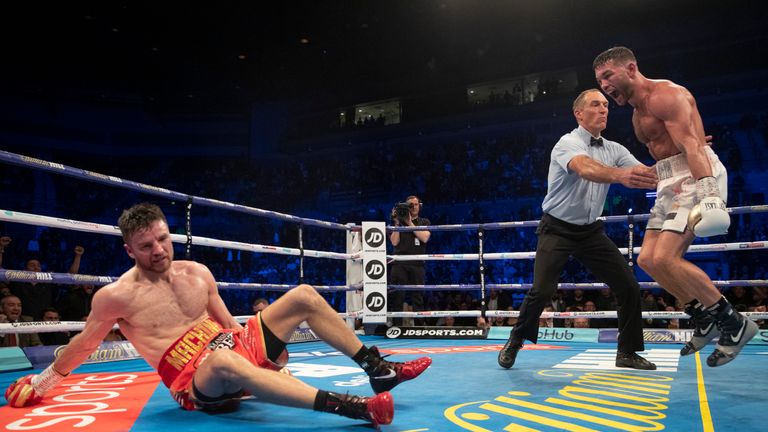 Fitzgerald improved his record to 13-0 (9) and put himself in prime position to score a big payday against "The big cheese" Ted Cheeseman. A payday that was supposed to belong to Fowler. A fight with Cheesemen seems likely, however, there are plenty of other options for Fitzy to pursue if a Cheesemen bout falls through. A showdown with Sergio Garcia, who took a lopsided decision over Cheesemen back in February would be an interesting fight that could be made. As would another all British showdown with the winner of the evenings' main event Liam "Beefy" Smith. Whoever Fitzgerald opts to fight next he has certainly elevated his status from prospect to legitimate contender.