WBC featherweight champ Gary Russell Jr has called out WBA champ Leo Santa Cruz and then wants to fight WBA super featherweight champ Gervonta "Tank" Davis.This is sweet music to the ears of fight fans for a number of reasons. Mr Russell is among the most skilled fighters on earth period. Fight fans have longed for a unification showdown with Santa Cruz and an all DMV showdowon with Davis. This gives us hope that it may actually happen. It's also good to see that Russell is still motivated, he has been on yet another long layoff, having last fought in May, taking a very impresive one-sided decision over Joseph Diaz Jr in a homecoming fight for Russell. Russell suffered a hand injury, combined with the fact that he has been on the one-fight a year plan for quite some time now, having fought just one time every year from 2015-2018 and expressing that he was only interested in fighting one time per year, these recent statements are good news, the featherweight division is among the best in the sport and Russell is arguably the best fighter in the weight class, so the divison is obviously better with an active Gary Russell Jr.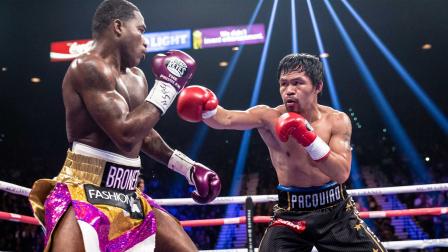 40- year WBA Welterweight champion has notified PBC that he is interesting in fighting in the second quarter of 2019 "I have advised Premier Boxing Champions (PBC) that I can fight in May or July," Pacquiao told The Manila Bulletin. He has added that he would perfer to fight and may and rejected the notion of fighting Jeff Horn in a rematch. Horn scored a massive upset over Pacquiao back in 2017. The name Keith Thurman has been fast tracked however Thurman who has beem highly inactive over the past several years and suffered several questionable injuries including a brusied hand bone and had a microscopic procedure to celan up loose bodies in his elbows, injuries that ket him out for years, despite both injuries having normal recovery times of just a few weeks. He is now complaining of yet another highly questionably hand-injury that would likely keep him from making a May fight for sure and possibly a July fight as well. Pac-Man may have to start looking for another opponent
Rising Filipino super star Aston Palicte returned to the ring on Thursday night against hughly rated Puerto Rican puncher Jose Martinez and the Filipino super flyweight did not dissapoint scoring a sensational second round knockout. After controlling the opening round with his long jab and mainting range he went for the kill in the second and got just that. First buckeling Martinez with a big right hand and then swarming on him and scoring the first knockdown of the night with another big right hand that landed on top of the Puerto Ricans head. Martinez got up and was dropped moments later, this time just barely beating the count (and perhaps getting the benefit of the doubt) referee Raul Caiz Jr. allowed Martinez to continue but was watching him cautiosuly and when Palicte landed yet another punishing right hand that sent a helpless Martinez into the ropez Ciaz did his duty and called the bout to a halt.Palicte picking up the win has now forced a rematch with WBO Donnie Nietes, a fight that ended in a very highly controvesial drap back in September of 2018.