The 140-pound division continues to produce blue-chip prospects. Among the most highly regarded prospect is the undefeated Northen Californian, Pedro Moreno (11-0, 7 KOs) who will for the first time headline a major card on Thompson Boxing's "New Blood" event on Friday, Feb. 8, from the Doubletree Hotel in Ontario, Calif. The seek and destroy Moreno faces a mostly unknown but fellow unbeaten in Ramon Mascarena (10-0, 5 KOs) of Chile. It an eight-round bout. Moreno at just 21 is a Sacramento, Calif. resident is among the top prospects in the entire sports and following a stand-out amateur has not disappointed. Making a quick rise up the ranks and will now get an opportunity to display his skills on a major card against a step-up opponent. An opportunity Moreno seems excited for saying "It means the world to me to be showcased in the main event. Every boxer wants to headline as quickly as possible after turning professional."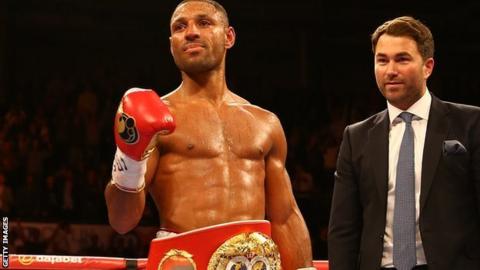 Kell Brook has countless options, a former world champ, and a major star and cash draw on both sides of the Atlantic, outside of Amir Khan, Brook can get basically any fight he wants at either 147 or 154. Brook has earned a shot at WBA/IBF Champ Jarrett Hurd, he has also been offered fights with former world champs Jeff Horn of Australia and Jessie Vargas of the US. Eddie Hearn said that the former champ from Sheffield has "a couple of big fights in America " However he is still uncertain if he will move forward at welterweight or jr middleweight. The "Special One" held a meeting with his team on Thursday to discuss a potential return to the States. The US has been good to Brook, he claimed his IBF welterweight title in Carson, California back in 2014. Brook, is still just 32-years-old and should be able to make another strong run at becoming a world champion.
Keith "One Time" Thurman is set to fight for the first time in nearly two-years this Saturday night at the Barclays in Brooklyn. Thurman has fought just twice in three and a half years and hasn't fought twice in the same calendar year since 2015. Despite this, the WBA "super-champ" is apparently looking past his current opponent, Josesito Lopez, and looking forward to his next fight. A possible showdown with Manny Pacquiao. Thurman said "I would love to have the opportunity to fight a legend like Manny Pacquiao. I was never given the chance to fight Floyd Mayweather, so I would love to fight with Manny," Since both Pacquaio and Thurman fight once a year at most, this begs the obvious question. When would such a fight take place 2020? 2021? Additionally, Pacquiao is heavily rumored to fight Floyd Mayweather and would prefer that fight. Meaning just like Thurman who lost his chance to fight Floyd Mayweather due to his retirement, he may also lose the chance to fight Pacquiao if Pacquiao opts to fight Floyd and then walk away from boxing.