On the first stacked weekend of boxing in 2019 selecting just one fighter of the week was a nearly impossible task. Sure, Pacquiao put forth an outstanding effort in dominating Adrien Broner. Demetrius Andrade put together an absolute clinic against a quality opponent as did Shakur Stevenson. Oscar Rivas scored a dramatic 12th round knock out that would have walked away with the award in a normal week. This, however, was no normal week. And the fighter of the week comes from the least expected place. If we were to say the Jorge Linares vs Pablo Cesar Cano fight was going to end by stoppage in less than a round, we would have been surprised. Cano is tougher than that right? He should get out of the first round! To think Cano was going to stop Linares, who dropped Loma, in one round was unthinkable. However, the unthinkable became a reality as Pablo Cesar Cano scored the first round TKO over the heavily favored Jorge Linares and has finally gotten the big win on the big stage that has alluded him for so long and picked up the Fighter Of The Week award. Close cut decision losses to Paulie Malignaggi and Shane Mosley seemed like it was going to forever make Cano a tough-luck loser all of his career. Well, that all changed Friday night in the Mecca Of Boxing.
Cano was supposed to be another B-level name on the resume of Linares a showcase fight for Linares an opponent that would come forward and fight into his hands, and offer some resistance to demonstrate the complete offensive skill set of Lineares and get him some rounds, all while showcasing him for a seven-figure payday against the elite at 140. However, Cano, who had very different plans, came out like shot out of a cannon, scoring a right hand that dropped Linares almost immediately. Linares got up only to take come more punishment from Cano, promptly putting his man back on the canvas. At that point, it became clear that Linares just couldn't deal with Cano's size, power, and relentlessness. It wasn't long after that another shot from Cano put Linares back down for the third time, and in real danger. Linares would beat the count again, but was on spaghetti legs, drawing the attention of the referee who saw Linares staggering around and into the ropes, after a couple more punches landed, the attentively watching ref called a halt to the onslaught.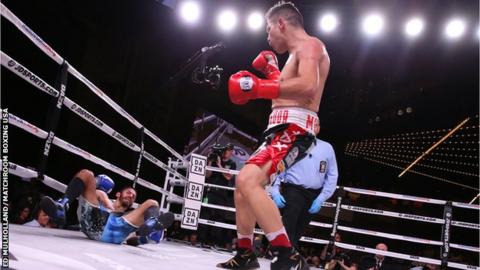 Cano has been in the eye of hardcore boxing fans for years. Ever since dropping an all-out all Mexican slugfest to legendary Erik Morales! However, the Mexican bruiser is still amazingly only inhis twenties. At 29-years-old his future is right in front of him and may have earned himself a title shot against Maurice Hooker on DAZN. Or a major fight back in NY against Chris Algeri or Cletus Seldin should Seldin be victorious next week in Connecticut this weekend against Adam Mate. Cano has always been viewed as an opponent, a gatekeeper. However, that stigma is gone and he has built himself into a legitimate contender. However, with most of the 140-pound elite involved in the WBSS tournament, he may have to wait out a title shot or do what he has always done and fight the best man available maybe a fight at 140 against Adrien Problem which would be lucrative and let's be reasonable very winnable for Cano.