Finally an evenly matched mega fight for 2019. So many one-sided mismatches have been announced and finalized for 2019, one-sided on paper at least, as Pablo Cesar Cano once again reminded us, fights don't go down on paper, they happen in squared rings under bright lights. However, on paper 2019 is filled with one-sided mismatches. There's only so long we can pretend to be excited to watch a lightweight who comes up from 126 being thrown to the biggest, baddest welterweight at the time. Or that we're excited to see "one-time" a year on a good year Thurman fight Josesito Lopez. Or watch the pound for pound king fight a has-been with a glass jaw who has zero percent chance of winning. We can no longer pretend to be excited to watch one-sided beatdowns where we already know who the winner is before that fight happens. Spence will knock out Mikey, Bud will beat Khan and Thurman will beat Lopez, we know this already. Why do we have to pretend we're excited to watch the inevitable instead of watching these guys all fight each other? However, good news has come from a familiar source. Canelo Alvarez has agreed to unify with Daniel Jacobs it's a "miracle" it looked for certain that we were going to get Canelo/GGG 3. Which would have been eeeh so-so. A Jacobs unification bout is way better and more intriguing for a number of reasons
The Middleweight division is perhaps the best and deepest in the sport. The amount of world-class elite fighters is staggering. The only way to find out who the best is is for the elite middleweights to all fight each other. Which is what we are getting, Jacobs will fight Canelo and unify three-quarters of the straps. As opposed to a Canelo/GGG Trilogy which would have been the two biggest cash draws in the sport hi-jacking and holding hostage the best division in the sport. If the trilogy went down as it was expected too the rest of the elite 160-pounders would have waited out the winner, taking tune-ups and non-threatening opponents. Now that Jacobs gets a shot, Andrade knows that GGG is available and called him out. The WBC has ordered a GGG/Charlo fight, so likely depending on who Golovkin signs with, something we should find out shortly. So we are not only getting Canelo/Jacobs, which is a win, we're also likely getting GGG vs either Andrade or Charlo and that's also a win. So instead of getting a fight, we have already seen twice in the last 15 months. We instead get two new, more, exciting fights which would logically conclude with the two winners fighting each other. As opposed to every other middleweight waiting out the GGG/Canelo winner.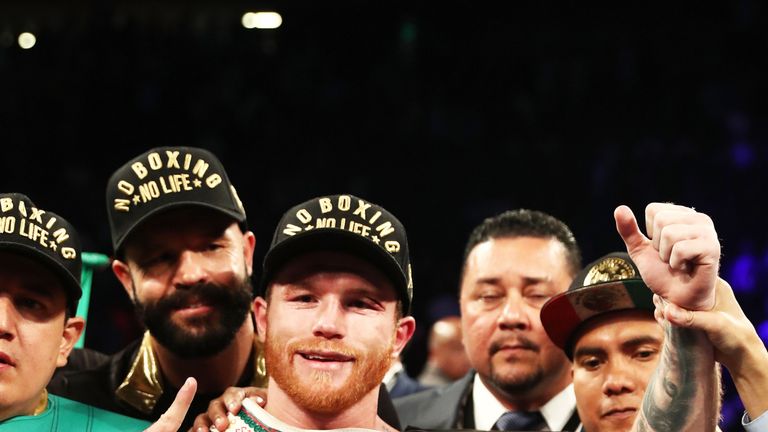 I'll be hard pressed to believe any "boxing fan" that says they are more excited for any of the welterweight title defenses, which we already know the winner, then they are for the middleweight unification showdown which is a 50/50ish type of fight. One that will be hotly debated prior to fight night. The fact that all of the welterweight champs including Pacquiao are scheduled to fight around the same time and none of them against each other is an embarrassment. The fact that it's not happening in the middleweight division (the other talent loaded division) is beautiful music to the ears of fight fans. It's causing all of the best middleweights to fight each other. This will organically yield not only exciting fights but will ultimately reveal who is the best middleweight in the world. Something that is likely not happening in the welterweight division anytime in the foreseeable future.