This weeks fighter of the week could go to either of the winners on the FS1 card on Sunday night. Both, Brandon Figueroa in the co-main and Caleb Plant handed in magnificent career-changing performance. Figueroa is now in no uncertain terms a title contender. That was ascertained with his dominant offensive barrage against Chucky Flores. Plant, who entered the ring a 6-1 underdog by some bookmakers, is now considered by many as the man a 168 and is the new IBF Super Middleweight champ. That being said in a very close call this weeks fighter of the week hails from Nashville, Tennessee. Plant's win makes him a candidate for "Upset Of The Year" as well as "Performance Of The Year". Sweethands put on a masterful performance a performance that elevated him to world champion and appointment television level!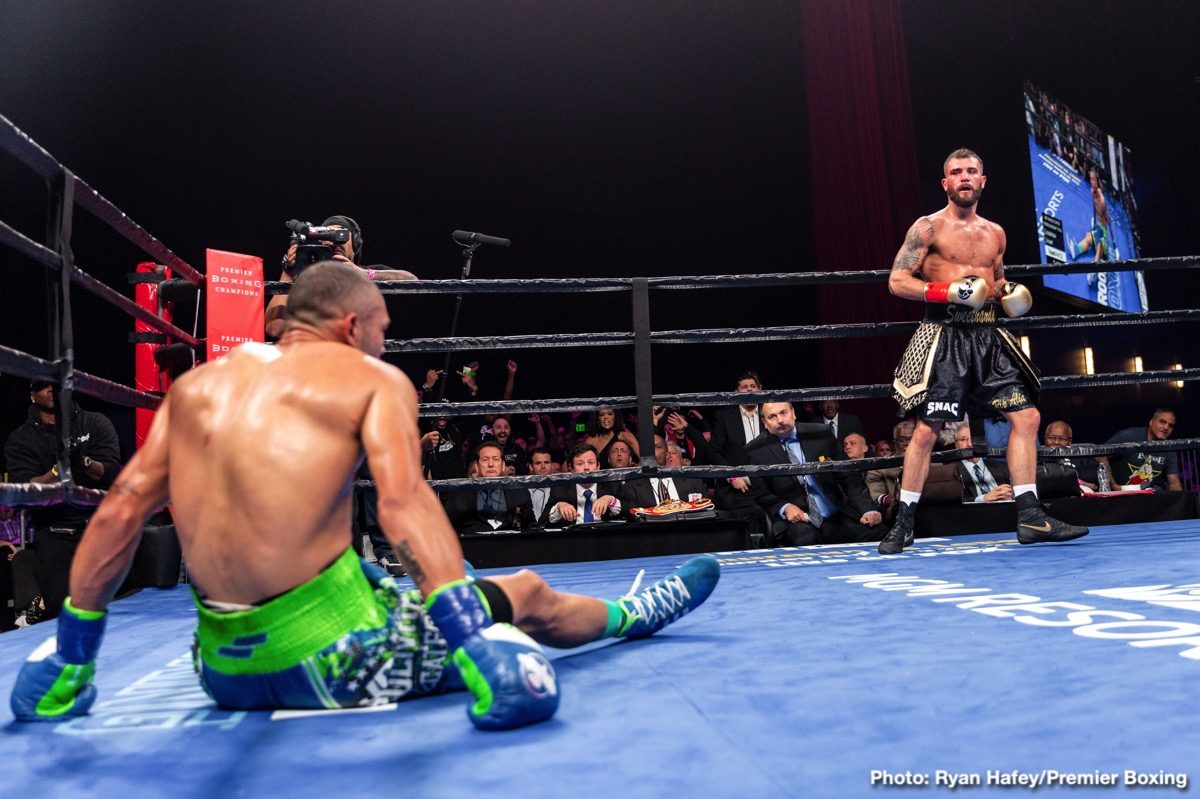 Plant has been an underdog his whole life and it has never slowed him down. Sunday evenings showdown against IBF kingpin Jose Uzcategui is no exception. Plant wasn't supposed to win, he was a prohibitive underdog. But where there's a will there's always a way! Plant plastered an image of the IBF belt above his bed, to make sure the red strap was the last thing he saw before going to sleep and the first thing he saw when he awakes. He is now the proud owner of the belt, he obsessed himself with. The two major questions surrounding Plant was his power and his grit. Both questions were answered with a resounding yes. Not, only did Plant have the power to stop Uzcategui from walking in and disturbed his attack, he floored the rugged champ not once but twice. That grit also cannot be questioned either. The new IBF champ stood toe to toe with Uzcategui and took his best shot including in the 9th round where he seemed a bit wobbled but dug his heels in and answered back landing many clean uppercuts that would back Uzcategui up. At the end of the 12th, there was no doubt who won the fight and Plant was awarded the UD by scores of 116-110 twice and 115-111.
Plant's performance was absolutely brilliant and it comes at the perfect time. The 168 division is very deep but without a dominant star. Sweethands can certainly become just that! A fight with David Benavidez would be easily makeable when Benavidez comes back, he has been inactive since last February due to a failed drug test. He has a tune-up against J'leon Love on the undercard of Spence/Garcia in March and will probably look to get back in the ring fairly quickly. Callum Smith and Gilberto Ramirez are also big names and world title holders at that weight class, bot fighters have different promotional ties but a unification fight with Plant would be a massive payday for all parties involved. Canelo also holds a version of the WBA belt in the weight class, and Uzcategui has already requested a rematch. So there is certainly no shortage of options for "Sweethands" and he at least appears to have fighters mentality and will take any of these fights. The Benavidez fight seems likely in the relatively near future.