On one of the most loaded weekends of the year that included the premiere of PBC on Fox headlined by a twin invasion, a massive collision of two rival heavyweights and a battle of eras in Manchester. All of that and the best performance of the weekend came from its smallest combatant, all 5 feet 6 inches and 111.5 of pounds of him. Charlie Edwards put together one of the years best performances in scoring what is a contender for upset of the year.  The Surrey UK native became a world champion by outboxing and out moving the highly favored Cristofer Rosales. It was the second shot and a heckuva long shot for Edwards to capture a world title. He was given a shot by almost nobody. It was supposed to be a showcase for Rosales, a spectacular knockout victory and Edwards would get to play the B-side, collect a check and come forward and be there to get hit and laid out by Rosales' awesome offensive firepower. That's what traditional logic told us was going to happen. Apparently, Charlie Edwards never got that memo and didn't follow the expected blueprint and badly outboxed the Nicaraguan.
 
In order for Edwards to beat Rosales and deal with his offensive firepower, he would have to stay disciplined and fight the perfect fight. Stay off the ropes and keep moving. Edwards did exactly that. Early on  Rosales was super aggressive and clearly targeting Edwards' body. However, the Brit stayed the course, picked off the Nicaraguans shots and never would allow him to get comfortable in the early rounds. He continued landing quick combinations and a thudding body shot that hurt Rosales late in the second round and would quickly move out of the way as to not entice Rosales further each time. Rosales had moments applying pressure but the Surrey native repeatedly beat him to the punch and again staggered him with a left hook in the fourth round. Every time Rosales had success Edwards would bounce back with his boxing skills and get on his horse and score with accurate shots and get out of trouble. Rosales dug deep in the eleventh, and in desperation knowing he was down on points took the fight to Edwards and connected with big power shots. Rosales continued the assault in the twelfth and final round, but Edwards was able to stay composed stay to the game plan of boxing and moving away. At the end of 12 the judges, unlike in Brooklyn, got it about right, handing in scores of 118-110, 117-111 and 116-112 to give Edwards the UD and the WBC Flyweight strap.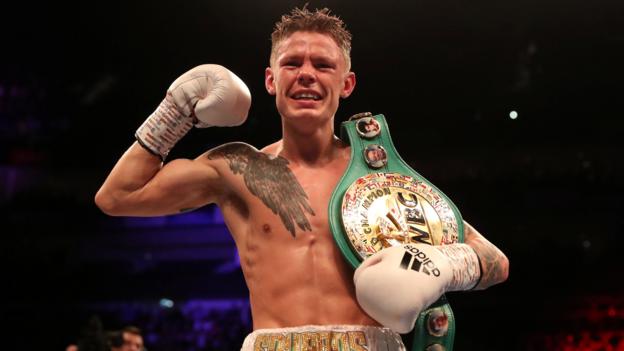 It's been a great year for British fighters and Edwards continued that trend to the very last major card of the year. The new WBC Flyweight champ has now put himself in a very interesting position. He can likely secure a rematch with Rosales, and this time it would be the headliner and a much bigger payday. Or he could look to unify against one of the other champs in the 112-pound division. A mega-fight with WBO champ Kosei Tanaka of Japan seems to be a very makeable fight and would be a big event and a massive payday on either continent. As well as fights with unbeaten fellow countrymen Andrew Selby or unbeaten WBA champ Artem Dalakian of Ukraine are all intriguing fights and would all be lucrative for both parties. However, the biggest fights and names are at super flyweight, and a 5'6 Edwards has the height to move up if he wants to step up and challenge Sor Rungvisai, or the Nietes/Ioka winner.