It will take you far my time to read this weeks "Fighter Of The Week" then it took 21-year-old phenom Teofimo Lopez to dispose of tough veteran Mason Menard. Teofimo Lopez made his pro debut just over two years ago and in the 25 months since  his pro debut has amassed a record of 11-0 (9), captivated the imagination of the fight fan, captured the prospect of the year by many  outlets in 2017 and now may have added knockout of the year to his rapidly growing resume. Certain knockouts are impossible to erase from our memories, what "El Brooklyn" did to Mason Menard Saturday night at the Theatre at Madison Square Garden was absolutely unforgettable. A picture perfect right hand, just a few seconds into the fight that collapsed Menard like a building imploding on itself in slow motion, bringing in the ref to wave off the fight immediately. Lopez punctuated the knockout with his signature backflip, to make the 44-second knockout official.
This is the section that we typically use to recap the actual fight, but since the fight totaled just: 44 seconds there's not a whole lot to recap. According to Compubox numbers, Lopez landed 8 of 18 total punches while Menard was able to land just one punch and fire off just four. Lopez came out of the gate quickly scoring with a big right hand that seemed to stun Menard. Lopez followed up with another overhand right hand that put Menard's lights out before he could even hit the canvas. Menard landed face down like a ton of bricks and was out cold causing the ref to waive the fight off instantly. In the post-fight interview, Lopez said he knew that Menard was tough and wanted to "test him early". In just 44 seconds Teofimo Lopez went from prospect to YouTube sensation, and legitimate world title contender and will look to snag a world lightweight title before 2019 is out.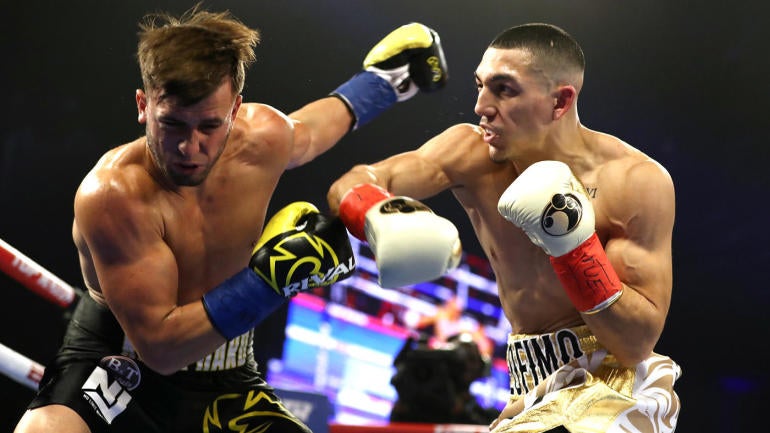 The native Brooklynite went 4-0 this year against increasingly difficult competition. 2019 will be a huge year for the young protege as there are more than a few options for Lopez. He is currently with Top Rank who has lightweight champion Vasyl Lomachenko as well as 130-pound champ Miguel Berchelt who has expressed interest in moving up to 135. Thise would be the ultimate prize and could realistically happen by the end of the year. However, that's at least a fight or two away and perhaps a step up bout against Ray Beltran or Jose Pedraza or Diego Magdaleno would help prepare the young star for a mega fight by years end. Growing his star power abroad would be an attractive option and stepping him up against either Pauly Hyland or Ricky Burns would be a profitable and logical step up as well.