The Scottish Rite Theater in San Antonio is becoming one of the best homes to the sweet science anyway in the Lone Star State. Saturday night featured one of Texas's brightest star, San Antonio native Kendo "Tremendo" Castaneda and Streamed live on Facebook on Fight Night Live. The San Antonio native put on a spectacular and dominating performance in taking apart, Gilbert Venegas Jr over 10 brutal rounds. Venegas who pulled an upset over another San Antonian, Armando Cardenas at the same venue back in September. Venegas was trying to pull the Texas Two-step in beating two locals in less than three months, but it was not to be, he was never able to get past or stop the right hand of Castaneda. Tremondo's right-hand was the story of the night, he could not miss with it, landing it sharply and accurately at will throughout the entire ten rounds. Castaneda put on an offensive masterpiece going upstairs with a snappy jab and a punishing right hand and hurting Venegas throughout with vicious body shots. At one point in round five Tremendo landed three consecutive lightning quick body shots. If Venegas was thought to have an advantage in the hand speed department that was not the Case. He was constantly beat to the punch. The Crowd cheered their hometown hero on with Chants of "Kendo-Kendo-Kendo" to which the San Antonio fighter responded to by staggering Venegas in the sixth. The final few rounds all looked the same as Castaneda dominated the action with brutal right hands and took a lopsided decision including winning all 10 rounds on one of the three scorecards to capture vacant WBA-NABA Super Lightweight Title. 
In the post-fight interview Castaneda "said he was ready"  adding "He wanted to fight anyone in the top 10 in the 140-pound division" When asked who he wanted to fight next he said he's "Willing to fight anyone in the top 10" adding "This is going to be a big year for me and Roy Jones Jr Promotions, to expect big things" When 3DBoxing asked him about potentially fighting  Vergil Ortiz he said "He's from Dallas I'd love to fight him, but is he in the top 10? He needs to pick up some more wins and get on my level." Strong words from Castaneda, given that Virgil Ortiz is one of the brightest prospects in any weight class in the sport, they were strong words but they weren't inappropriate given the level of competition and the performance he handed in at the Scottish Rite. Castaneda is trained by former WBC 130 Super Featherweight champion Jesse James Leija. 
In the co-main event, the incredible story of Luey Villareal, the 42-year old engineer picked up version of the ABF  Middleweight title in putting in a dominating performance over Michael Klekotta and picking up a fourth-round stoppage. The San Antonio native dropped his hands a la Roy Jones Jr and used spectacular had movement making his opponent miss one shot after another and countering with beautifully placed power shots throughout the four round destruction of Klekotta.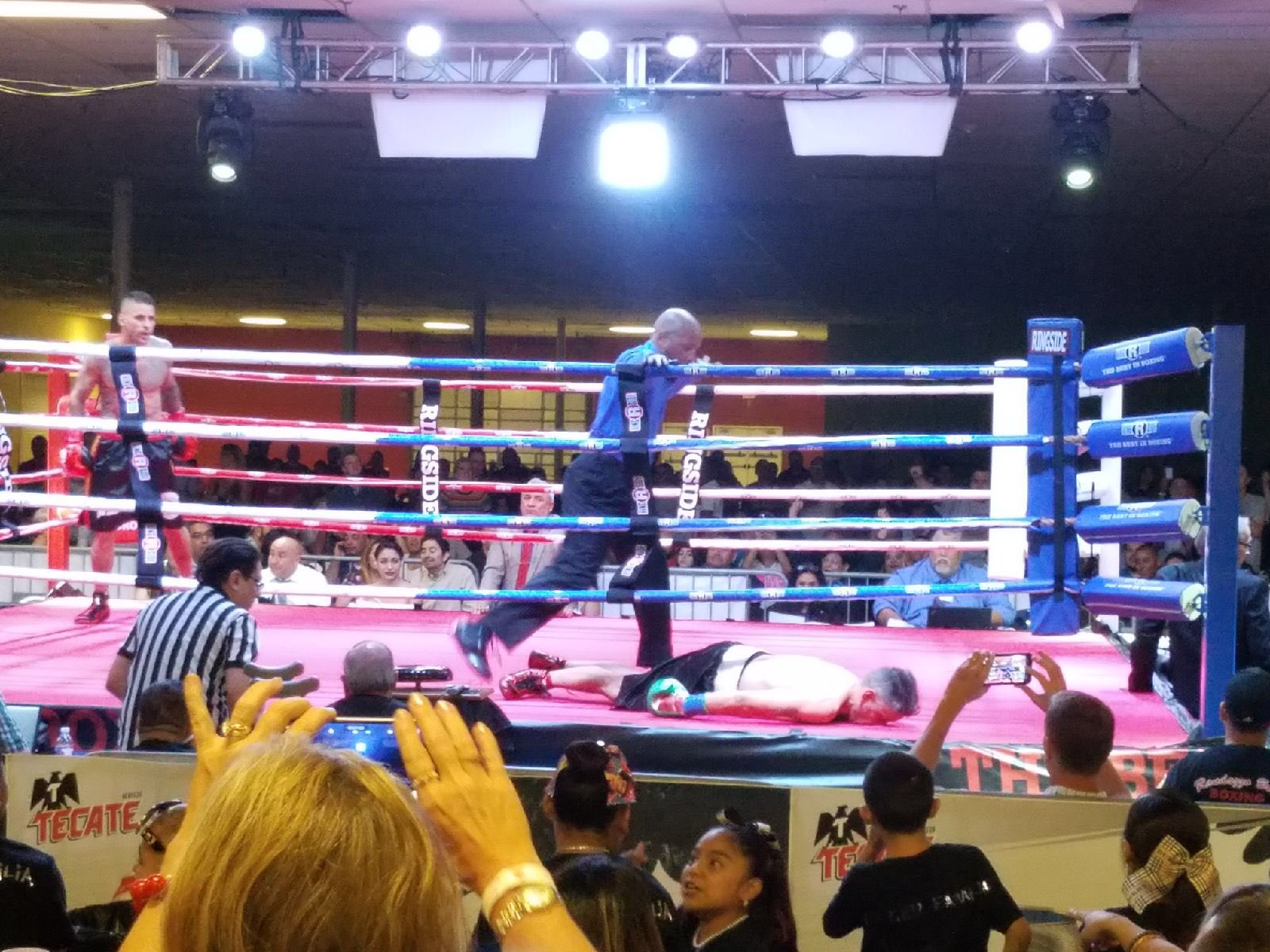 Xavier "Professor X" Wilson ran his record to 9-0-1 by handing in a masterpiece in outclassing Gelacio Cruz. Wilson used his snappy jab to win the battle at long range and landed beautifully combination showing off the hand speed to win the battle in the mid-range. It was a technical masterpiece put on by "Professor X" that culminated about mid-way through the fourth and final round when Wilson rocked his man with a perfect right hand that put Cruz on wobble street. Cruz was able to hang tough and finish out the round by managed only to win one round on just one judge's card.
The preliminary bouts featured a hot-shot youngster by the name of Richard Medina, who is Promoted by Prince Ranch Boxing and has former heavyweight champ Hasim Rahman by his side, scored a second-round knockout over Jorge De Leon to run his record to 2-0 (2). 47-year old Christopher Martinez made his professional debut a successful one in taking down the 280 lbs+ plus unbeaten Mathew Glover in just two rounds.
Hometown legend Dogberto Navarez continued his unbeaten streak against a tougher than expcted Stetson Horne. Horne of Elgin, Texas, was 0-2, entering Saturday's fight with Navarez, and wasn't expected to last very long, but not only did Horne go all four rounds. Horne was successful in making it a scrap, with Navarez was loading up looking to end the night with one big right hand Horne had some moments with counter left-hooks and made Navarez pay the price at times. However, Horne's courageous performance wasn't enough against the skill of Navarez who took a competitive but clear decision victory.
In Los Angeles, two tough Texans locked up. 18-year-old 112-pound sensation Bam Rodriguez took to the big stage in the Staples Center on the Wilder/Fury and gave a masterful performance under the brightest lights of his young career. Taking a lopsided unanimous decision over Houston based journeyman Josue Morales, who took the fight just two weeks after giving Olympian Nico Rodriguez a tougher than expected scrap. Morales came to fight but was out of his league at the end of the day.