In another loaded weekend chock -filled with worthy candidates, but there can only be one Fighter Of The Week! There's one man whos performance, as short as it was, the stood out above all others. Isaac Dogboe in just over two minutes disposed of Hidenori Otake a quality opponent with high quality wins, denting the Japanese contender every single time that he landed, and landing wasn't an option. The "Royal Storm" landed a mind-blowing 64% of his total punches connecting on 34 or his 53 shots while holding Otake to landing just 7 of the 37 total shots (19%).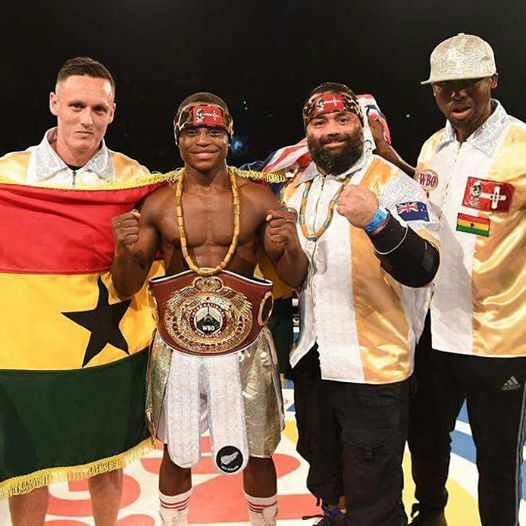 Dogboe continues to impress and has scored his third knockout victory of the year having knocked out Jessie Magdaleno to capture the WBO 122-pound belt back in April and in January blew out Caesar Juarez who has a victory over Albert Pargara and went the distance with Nonito Donaire. If the year was to end now Isaac Dogboe would be the Fighter of The Year, and it appears its just a matter of time before Dogboe starts appearing on Pound for Pound lists everywhere. Dogboe's power is more than legitimate, he's lead left hook dents anything it connects with, he is an excellent body puncher and defensively responsible. There's not much not to like about Isaac "Royal Storm" Dogboe and in a division that features Luis Neary, Diego De La Hoya, Rey Vargas and a comebacking Guillermo Rigondeuz the names to build his resume against and cash in on.
Dogboe burst onto our scene back in 2012 Olympics. In the first round of the games, the Royal Storm faced Satoshi Shimizu of Japan. winning the first two rounds (4:3, 3:2) and seemingly winning the last round as well somehow had the bout scored against him. A decision that was protested and met with more than a little displeasure from the crowd, who voiced their disagreement with seeing the rightful winner robbed blind. That was the last time Dogbae last a fight. He has built up a 20-0 record and captured a world title in the six years since the bogus decision. He looks to be the next generation of great Ghanian fighthttps://youtu.be/M7d5_syVBkgers nation that has produced such greats as Azumah Nelson and Ike Quartey among others. Dogboe has made a strong case for Fight of the Year with his victory over Magadelano in Philadelphia, Dogboe survived a first-round knockdown and stormed back to drop Magdaleno in the fifth round and twice more in the 11th round for the victory. As well as Fighter Of The Year. Not bad for a fighter who was relatively unknown in most boxing circles just a few months ago.