Daniel Jacobs vs Maciej Sulecki
WBA final middleweight title eliminator
Daniel 'Miracle Man' Jacobs (33-2, 29 KOs) returns to Brooklyn this Saturday to take on unbeaten Maciej Sulecki (26-0, 10 KOs)  at the Barclays Center
The truth is Jacobs is a massively large middleweight who is rumored to enter the ring at over 180lbs Sulecki is a smallish middleweight more like a full size 154 Pounder. Jacobs is going to have an advantage in size, speed, athleticism and a massive advantage in punching power. Sulecki is a talented fighter who has compiled a pretty got resume including wins over names like Jack Culcay, Hugo Centeno, Grzegorz Proksa, Derrick Findley, and Darryl Cunningham. Sulecki is an undefeated prospect (26-0) but with just 10 KO's in his 26 fights, he isn't likely to expose the questionable chin of Danny Jacobs.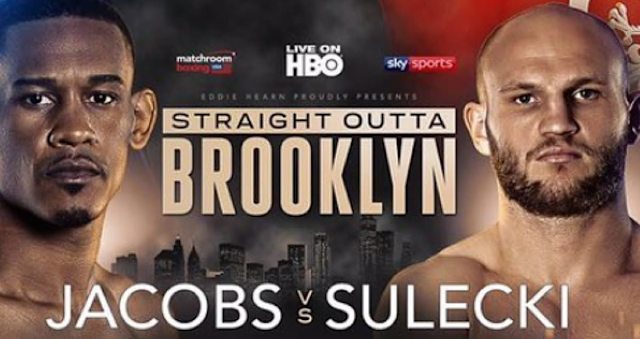 Sulecki, who is an aggressive starter will bring the fight to Jacobs and landing impressive left-right combinations that look more impressive catching The "Miracle Man" off guard. Jacobs who is only fighting in spots lands some clean shots is being outworked by Sulecki. The first two rounds are close and competitive but perhaps taken by the Polish fighter on pure activity. To start the third Jacobs knowing he is in a real fight begins to pick up the pace and lands some big straight rights from the outside and his hand speed advantage on the inside wins him round after round of competitive action. By the 7th round the bigger, stronger, faster Jacobs is starting to really wear down the smaller Sulecki who is still pushing the action and fighting to in is slowing and starting to eat a lot of big leather and is dropped late in the round with a big lead right hand- left hook combination. Sulecki is able to get to his fight and finish the round.
To start the 8th round of the scheduled 12 rounder Jacobs smells blood and is walking his man down with the jab and rips a left to the body that freezes Sulecki, Jacobs lands a few more big power shots that floors the game Polish fighter for the 10 count.
Official Prediction- Daniel Jacobs via 8th round KO