We at 3DBoxing want to do our part. If a Thurman/Spence unification can't be made, this seems like perhaps the next best thing at 147. So yes, we are asking for Danny Garcia and Errol Spence next. Garcia Has a February 17th "tune-up" against Brandon Rios. Spence has an open date scheduled for June 16th in Dallas, he also has been on the record several times saying he plans to fight three times this year, so if Spence has to take his mandatory in June they can meet up in the fourth quarter sometime.  That gives them two chances to meet up this year.
"If his name comes across and they want Danny Garcia and Errol Spence to fight then we'll fight" Garcia is saying that if we call for the fight 
then
 he will make the fight? Ok, Cool!  let's all do our part and call for this fight. With a Thurman/Spence fight on hold, because Keith says the Spence fight isn't happening in 2018 and he isn't ready and needs two fights before Spence. So, let's make the Spence/Garcia Showdown. It is two top-five welterweights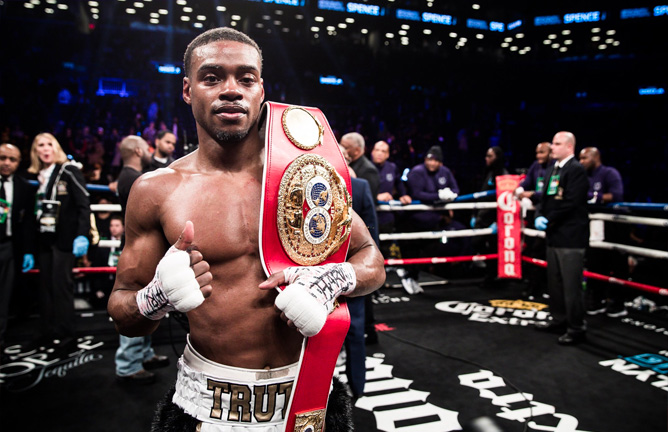 Swift, stated that  "Everyone is talking about Errol Spence, but he fought somebody that I already beat. And when he beat him they consider him a killer, but when I beat him Danny Garcia wasn't a killer." That's a fair point by the two division former champion, however, Garcia fought Peterson at a catch weight and won a 50/50 decision, a fight that was ultra competitive and razor close that could have been scored either way. Spence destroyed Peterson dropped him, stopped him and won every moment of every round. So that may have something to do with the way they are viewed.
In all reality, Danny Garcia probably does have the best resume of anyone at 147. He has wins over Khan, Matthysse, Peterson and a few other nice names. The problem is none of those fights were at 147, they were all either at Jr welter or a catchweight.  Garcia said  "I think that's a great fight for me. He likes to fight, I like to fight. Like I said, I'll fight anybody. If his name comes across, and they want Danny Garcia and Errol Spence to fight – then we'll fight,"  The Philly native went on to call the Texan a "Young hungry kid" Thurman also referred to Spence as a young buck, which is interesting, and of course stupid,  because they are all pretty much the same age all are within a year and a half. Garcia seems extremely confident that he could beat Spence. There are two possible reasons for this, he will continue to duck Spence and has no actual intentions of fighting him. Or, he wants to fight him and truly believes that he can beat him.  Swift has a style in which he likes to exchange and trade on the inside, he is a very good counter puncher with an exceptional left hook, Swift is also quicker handed then Spence, so maybe he does want this fight. It would be a huge payday for Garcia and of all the top guys at 147  Spence is maybe, stylistically the best matchup for him.
Garcia stated that "He[Spence] likes to fight I like to fight. I'll fight anybody!" Really? You are universally known as Cherry Garcia because you are reluctant to fight the best guys. Since the Matthysse fight when you cemented your name, you've been fighting the likes of Mauricio Herrera, Rod Salka, and Sammy Vargas and now Brandon Rios. Now we are supposed to believe that you are going to fight Errol Spence? That seems a bit far-fetched. Especially considering that Swift already ducked this fight when Spence called him out this past summer. But, let's give Garcia the benefit of the doubt and say he is really willing to make this fight if the media and the fans call for it. Ok, we are calling for an Errol Spence Vs Danny Garcia fight in 2018.