As the Mayweather- McGregor press tour concludes in London England I am breaking my unspoken promise.  I couldn't resist, I really couldn't. I said I wasn't going to mention this ridiculous fight. It really doesn't interest me. But the non-stop coverage finally broke me and it clearly interests everyone else.
We knew this was going to be a spectacle. This is being promoted like some odd combination of a Vince McMahon  WWE and Martin Scorsese production. The hype is embarrassing. Floyd has been promoting mega PPV fights for over a decade, never has there been anything like this,overtly racial and sexual comments thrown around. Non-stop foul language. Imagine you took your family to see this, an announcement of a major sporting event. This didn't happen when Floyd's fights were announced with Canelo or Oscar or Pacquiao. Never has any other Floyd fight or any other boxing fight in my quarter century of watching the sport looked like this. So it's not appealing to my base. So whose base is it appealing to? Exactly!
Boxing and MMA are vastly different sports,  and so are their fan bases. Boxing is the sport of hit and not get hit. MMA is the sport of human cockfighting. Boxing fans enjoy the art form and science of highly skilled fighters. UFC fans like to get drunk and want to see if someone can get beat to death.  For lack of a better comparison I think boxing fans are fight fans and I think UFC fans are a combination of drunk frat house bored college kids combined with paroled white trash on house arrest. I think that is the core of the UFC 's fan base and I think I was proven correct with the racist despicable promotional displays that have been put on stage so far.
If I asked the average sports fan who would win  Steph Curry or  Aaron Judge. One Might ask are are we talking about a 3-pomt contest or a home run derby? Because it matters. So does this. We are playing Mayweather's sport so to think McGregor could defeat Mayweather, the best of his era at his own sport is clearly ridiculous. Which is why they aren't taking it seriously. Six weeks before the fight they are on a different continent selling the fight, not in training.
This is a bad sparring session. Probably the easiest Lil Floyd has had in some years. One would imagine there isn't one fighter at the Mayweather Boxing Gym that couldn't give McGregor the business. That's, not an insult to McGregor he has never participated in the sport before. How could one expect him to do it at a high level? This is not to blame him he… Good for McGregor, He is going to make a ton of money. Enough money that after he completely embarrasses himself he will never have to work again.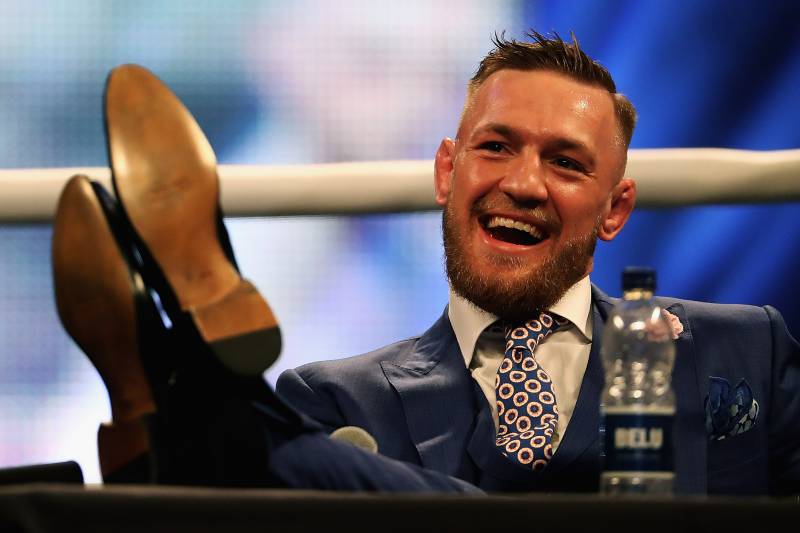 The fact there are UFC fans that think that their guy can win is mind boggling.  Let me put this in perspective. With two examples, Manny Pacquiao is an unbelievable athlete, tremendous foot speed, footwork,  coordination, unbelievably quick and agile he is a really,really good recreational basketball player, do you think he could beat Steph Curry in a game of one on one? Why not? Want another example, Will Hogue is a 6'3 230 lbs fire fighter he is also ranked #1 as the longest driver in the world. He drives a golf ball further than anyone on planet earth, do you think he can beat Tiger Woods in golf? Why not? Do you mean there's a skill set involved in golf? Oooh…
Consider this Floyd Mayweather has beaten De La Hoya, Mosely, Cotto, Pacquiao, Marquez. I just named five all-time great, legendary first ballot, hall of fame fighters. Brandon Schaub of Showtime recently made some of the time dumbest statements ever uttered saying Floyd is a slow starter.   That Connor was going to catch him clean and start putting rounds in the bank against Floyd Mayweather… Really?? Who in the last several years was able to put early rounds, plural, in like 2 or more rounds in the bank against Floyd. Maybe Maidana? Not Mosley he only got one, not Berto, not Pac, not Cotto, not any of those guys.  So a guy who has never boxed a round in his life is going to do what legends couldn't do? That's like saying I am going to pick up a bat and take some batting practice and after a few weeks get some base hits off of Noah Syndergaard or  Clayton Kershaw. Mak Kellerman says McGregor won't land a single punch, this is tough, can he land a punch, I think he won't land a punch in the first round but here's the thing if after two rounds Floyd wants to put him away he will probably get hit with a little shot here or there a glancing or glazing shot. You go in the shower you get wet you go in the ring you get hit. If he lays back and plays with him for 12 rounds you figure for 12 rounds, 36 minutes, McGregor lands at least 1 or 2 shots. I think 5 sounds reasonable. So if I set the over under of total punches Conor Mcgregor will land at 5 1/2 would you go over or under?
I have one question for the millions of people who are going to spend 100 bucks to watch this, what do you expect? Floyd isn't an entertaining fighter, you aren't going to get a great high-speed chess match.  McGregor has never been in the sport before. Why are you watching? I can promise you I am not watching, I have no interest. I think Oscar De La Hoya was right don't pay for this. Not in protest,  because I see no reason to watch it, what do you expect? Floyd's wasn't particularly entertaining in his prime taking apart world class opposition. Why pay $100 bucks to watch a bad 40-year-old- Mayweather sparring session?